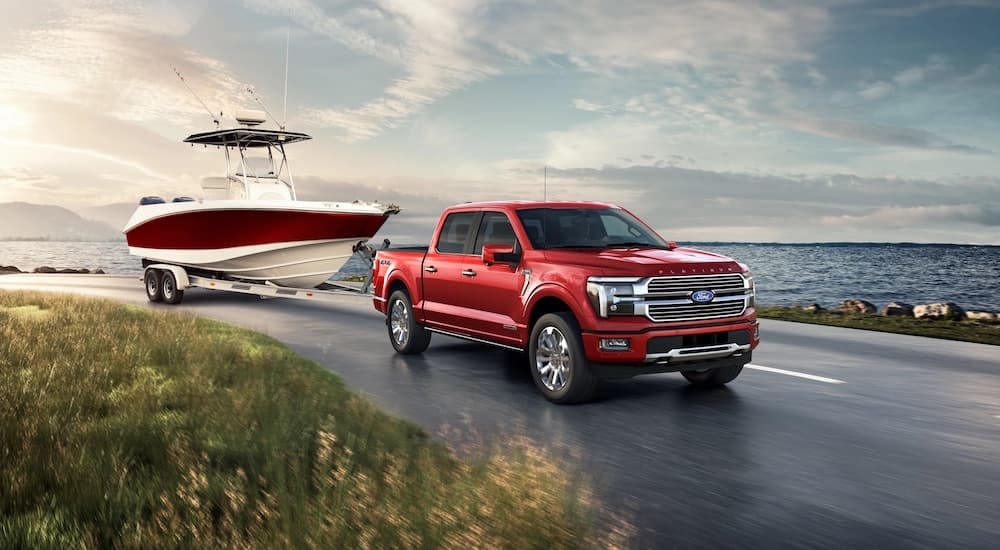 Check Out Ford's Exciting 2024 Truck Lineup
When the challenges of work and home demand an exceptionally strong vehicle, only a rugged truck will do, and who better to trust the job gets done than with a Ford truck? Saying that this manufacturer is iconic is a severe understatement. For well over a century, Ford has dominated the truck industry with their stunning lineup of powerful pickups, ready to tackle any challenge you throw at it. This legendary status in the automotive industry didn't come easy; Ford has continued to raise the bar of what a truck is capable of in terms of strength, performance, and innovation. For those looking for the best in this segment, you'll find it in today's Ford truck lineup. Whether it's strength, size, or modern comfort and convenience features, you'll find a truck that's tailor-made to your unique needs.
The 2024 Ford lineup of trucks offers pickup enthusiasts an exciting array of new and enhanced features. Whether you're looking for a moderately-sized truck like the Maverick or Ranger to help out with your needs at home or need a true workhorse like the Silverado 1500 for the grueling tasks on the job, you'll find it here. As the premier Ford truck dealer, the team at Faith's Ford is passionate about this esteemed brand's new inventory and will be happy to assist you in finding that perfect Ford truck. Before you visit their dealership, take a look at what the newest lineup of Ford trucks has to offer.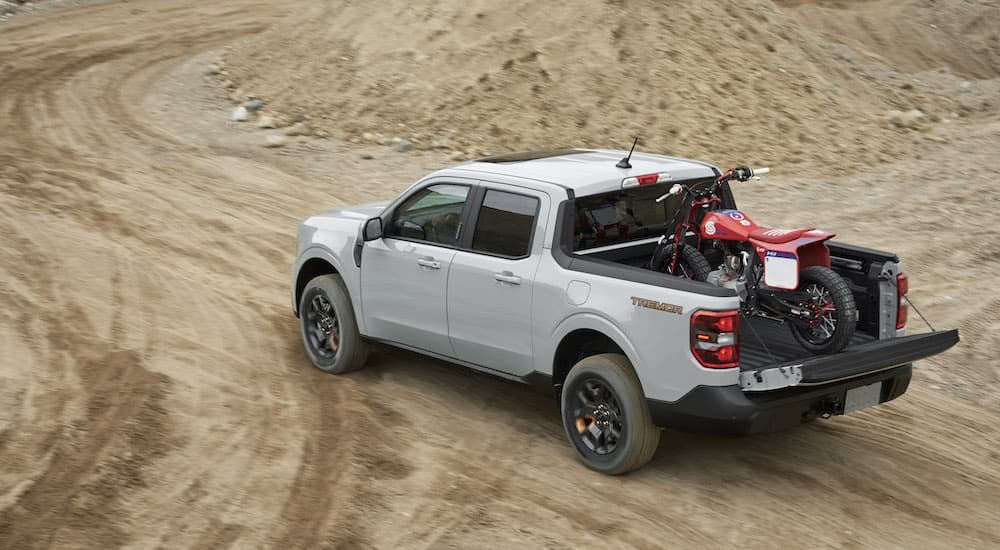 The 2024 Ford Maverick
The 2024 Maverick offers two versatile engine options. The base engine is a 2.0L EcoBoost four-cylinder that produces 250 horsepower and 277 lb-ft of torque and comes with front-wheel drive or all-wheel drive. When properly equipped, a Maverick with this powertrain can tow up to 4,000 lbs and carry 1,500 lbs of payload.
If you're choosing the Maverick to bypass pain at the pump, you might want to consider the available hybrid powertrain. This setup pairs a 2.5L four-cylinder engine with an electric motor for a combined 191 horsepower and is available exclusively with FWD. A hybrid Maverick can still carry 1,500 lbs of payload and can tow up to 2,000 lbs. As you might expect, this powertrain really shines when you look at mileage. While a Maverick with the 2.0L engine gets a combined city/highway rating of 25 MPG, the hybrid powertrain brings that up to 37 MPG, so you can spend less time at the pump and focus on the task at hand. On top of its great efficiency, it's packed with all the features you'd expect from a modern truck, like Apple CarPlay and Android Auto connectivity and Ford's Co-Pilot 360 suite of safety and driver-assistance features.
The 2024 Ford Ranger
The Ford Ranger is entering a new generation for the 2024 model year, and there are plenty of upgrades to be excited about, including a new front end with unique variations for different trims, giving the Ranger a bold look inspired by the F-150. Its base 270-horsepower 2.3L EcoBoost engine returns as the base model, while a 2.7L V6 is now an available option, allowing you to get 315 hp and 400 lb-ft of torque. The class-exclusive Pro Trailer Backup Assist makes it easier to back up with a trailer, giving you great visibility and precise control, and new fold-flat rear seats let you store valuables and sensitive equipment securely in the cabin.
The Ranger now has its own Raptor trim, which features a specially-tuned V6 engine capable of churning out 405 hp and 430 lb-ft of torque for off-road thrills. The Ranger Raptor also features 2.5-inch Fox live valve shocks, a Watts link rear suspension, an electronically-controlled transfer case, and front and rear locking differentials. Combined, these features deliver a smooth road on bumpy ground and give you the traction you need to tackle any terrain.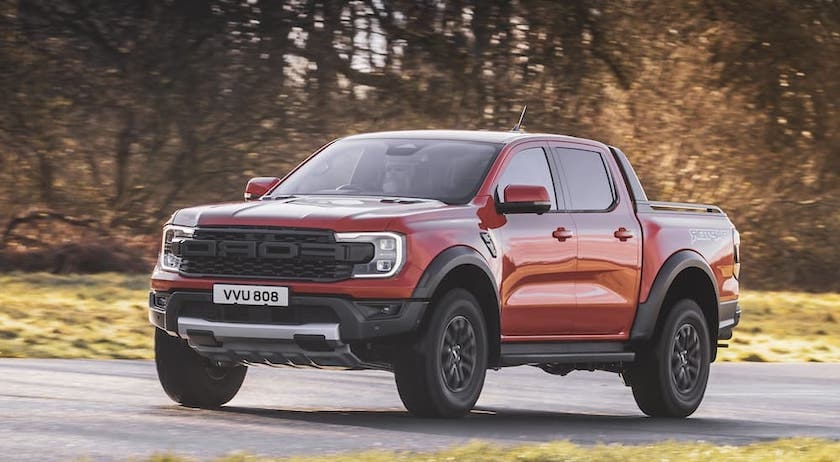 The 2024 Ford F-150 and Super Duty Lineup
Perhaps one of the most celebrated Ford trucks is the F-150, which has dominated the truck market for almost 50 years. For those looking for a truly rugged track that is as much at home off the pavement as it is on the job site or at home, the F-150 is a worthy travel companion. The 2024 F-150 comes with an almost overwhelming array of engine options, offering you the precise strength and capability you need. The standard 2.7L V6 is anything but standard, giving you an impressive 325 hp and 400 lb-ft of torque. In addition to a few other V6 options, those looking for monstrous strength can find it in the 5.2L High-Output supercharged V8, giving you a whopping 700 hp and 540 lb-ft of torque.
If you're using the F-150 for work rather than play, you can take advantage of the Pro Power Onboard system, which acts as a mobile generator, letting you power up your equipment just about anywhere. A 2.0kW version that features up to four outlets is available with some traditional powertrains, and a more powerful 2.4kW version comes standard with the 3.5L PowerBoost hybrid, and, yes, there's a hybrid engine option too. The hybrid also unlocks access to the 7.2kW version, which includes up to six outlets and can power a G6 air compressor or a welder, opening up even more possibilities. The name of the game is "Power" when it comes to the 2024 Ford F-150.
Of course, for those needing strength that is simply unparalleled, consider exploring Ford's Super Duty selection of trucks, which include the F-250, F-350, and F-450 models. Simply put, these trucks were built to excel on the job site, tackling unfathomable cargo loads. Depending on the model you choose, you have the ability to tow up to 40,000 lbs and haul a payload of 8,000 lbs when properly equipped. How's that for power? As expected, their strength is complimented by a plethora of comfort, convenience, and safety features, making your time at work a breeze.
There's Nothing Like a Ford Truck
For the best that the truck segment has to offer, look no further than Ford and its celebrated lineup of models. If you're hunting for that perfect pickup, strength, and capability are probably at the top of your must-have list, and Ford's latest lineup is here to deliver. Whether it's towing cargo for work, starting that DIY project at home, or simply dropping the kids off at school, Ford trucks are here to make your time behind the wheel count. Still unsure which model is the best fit for your needs and lifestyle? Come visit Faith's Ford, and their dedicated team will help you explore everything these pickups have to offer and help you discover which one perfectly matches you.
Once you've found the ideal truck, their finance department will work closely with you to create a payment plan that fits your budget. Whether you have less-than-stellar credit or no credit at all, their finance experts will work tirelessly to get you behind the wheel of a truck you love. They'll also be here for you throughout the ownership of your vehicle with a dedicated service and parts department that can help you with everything from an oil change to brake repair. Finding your next truck doesn't have to be stressful. Faith's Ford is here to help you find a fantastic new pickup!
Back to Parent Page