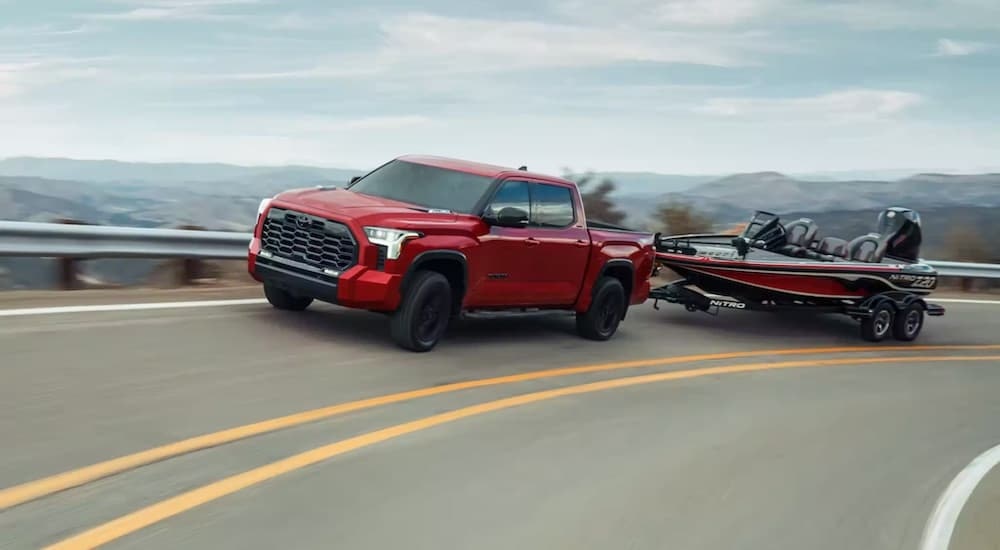 How the Tundra's Recently Added Engines Are Taking Its Performance to the Next Level
With Toyota introducing the i-FORCE MAX hybrid powertrain for the 2022 Toyota Tundra, it opened up a wealth of possibilities for the truck beyond what it was capable of before the modern redesign. The opportunity is there to tow more, get better payload, take advantage of higher performance scaling, and better fuel economy, all in one package. Overall, the i-FORCE MAX hybrid powertrain delivers an evolved trucking experience for the Tundra that just wasn't there before. It now gives you a much more compelling reason to shop through the available Toyota trucks for sale at Faith's Toyota if you are looking for a truck that seemingly does it all and then some.
But you probably want more than just an elevator pitch about what makes a hybrid Tundra so much more enticing than a traditional gas-powered or diesel-operated truck. Well, there is a mixture of things that help define the Tundra's i-FORCE MAX across the available trim line that makes the 2023 Tundra such a compelling vehicle on the market. Check out some of the benefits of the Tundra hybrid after the jump.
More Power, Better Mileage
Almost universally, when you think about a full-size pickup truck, you often aren't thinking about how well it does in range. Fuel economy is a topic for compacts and hatchbacks, but not full-size trucks. Light-duty pickups don't have very good gas mileage because there's a lot of curb weight, big engines to move those big trucks, and you're dealing with a lot of payload capacity, either from passengers or towing and hauling in the bed box. But what if the 2023 Tundra delivers more power and better mileage than the previous generation of Tundra models?
That's right, the recently added hybrid i-FORCE MAX — as part of the new powertrain refresh for the 2022 Tundra – manages to output more power than the outgoing generation, and it manages better overall fuel economy, regardless of the drivetrain configuration. You can get the Tundra i-FORCE MAX in multiple trim formats available as either rear-wheel drive or four-wheel drive configurations. When it comes to power output, the 3.4-liter twin-turbocharged V6 hybrid manages 437 hp and 583 lb-ft of torque.
You're looking at approximately 13% additional horsepower and nearly 30% additional torque output compared to the outgoing generation. That gives you quite a bit of an upgrade over the previous model and a significant reason to check out a Toyota truck compared to the competition. But the real beauty is that the 2023 Tundra with the i-FORCE MAX hybrid manages much better fuel economy than you might be expecting.
The 2023 Tundra hybrid delivers an estimated 20 MPG in the city and up to 24 MPG on the highway. For a full-size truck with these specs, this is fantastic efficiency. Typically, the only way to get better fuel economy ratings out of a full-size, light-duty pickup is by going with a turbo-diesel. But in this case, the hybrid design of the Tundra gives you snappy performance, instant acceleration, and great power scaling, all while also offering competitive fuel economy for a truck this size.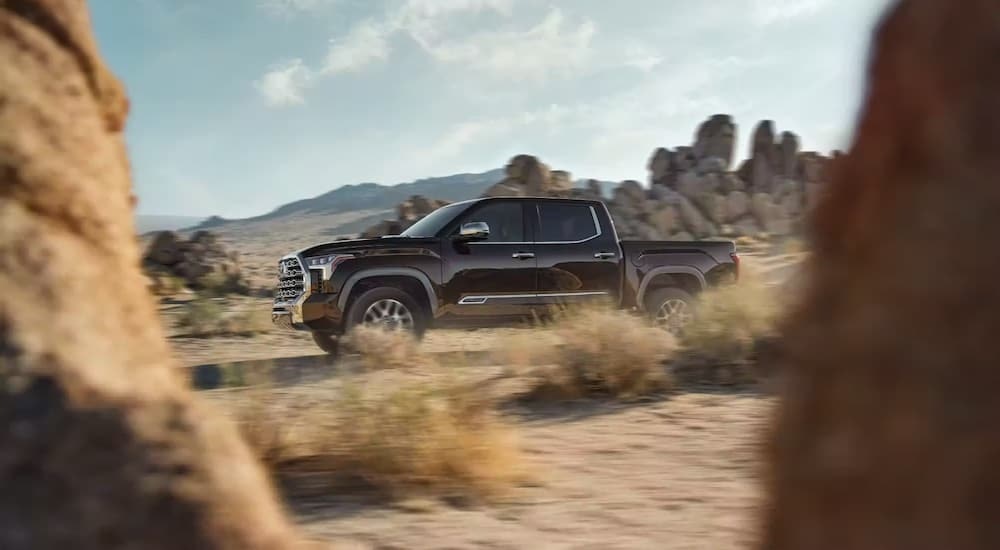 More Range and Better Towing
It might seem like a broken record when you're reminded how much the performance has improved with the 2023 Tundra compared to the previous generation, but it really is a step up and a step forward. Part of that includes the ability to travel farther than the outgoing generation afforded and tow and haul more than you could with the previous Tundra design. Keep in mind that the outgoing model topped out at 13 MPG in the city and up to 17 MPG on the highway, and it had a max towing capacity of 10,200 lbs.
Toyota's chief engineer Mike Sweers talked a big game about focusing the Tundra's hybrid powertrain on off-the-line performance rather than fuel efficiency. It makes sense when you consider just how much horsepower and torque come packed into the new Tundra. However, when you look at the numbers of the previous generation in comparison to the new 2023 Tundra and its i-FORCE MAX hybrid V6, the numbers tell quite a different story.
With the 2023 Tundra, you have approximately 25% more range with the fuel economy and a max towing capacity of 12,000 lbs, which is a significant upgrade over the outgoing generation. That means you get an additional 15% of max towing capacity with the new Tundra, enabling you to tow a lot more and travel a lot farther while doing so. This offers light-duty truck drivers many more opportunities when it comes to where they travel, how they get there, and how much they can bring with them. It's the difference between taking a small camper and a large camper on a weekend trip or how frequently (or infrequently) you must stop for gas along the way.
Even if Toyota wasn't primarily focused on fuel economy, the Tundra's i-FORCE MAX still provides great numbers in gas mileage when you look at how much horsepower and torque it produces. There's really no downside looking at it from a functionality standpoint. You get to use the truck for more towing and trailering activities with the extra tonnage and do more daily driving without having to fill up as much. And to top it all off, you get much more power to boot, and much better off-the-line acceleration thanks to the improved engineering of the i-FORCE MAX hybrid power plant.

Quiet, Comfortable, and Smooth
The 2023 Toyota Tundra's i-FORCE MAX works in conjunction with the all-new suspension setup to make the truck feel less like a truck and more like a luxury sedan or an executive SUV. The electric motor works to get you off the line quickly with near instantaneous acceleration, while the twin-turbos mean you get good top-end speed without any debilitating turbo-lag once you start moving. The replacement of the leaf springs with coil-over suspension and a fully boxed frame results in a much more responsive and smoother ride. When you combine the suspension and chassis changes with the hybrid powertrain, you have a truck that has notably been proven to ride smoother, quicker, and quieter than some of the competition.
This is important when scouting through Toyota's available trucks for sale that house specific features that appeal to your driving tastes. If you're looking for a truck that can still handle the off-road ruggedness that the Toyota Tundra is known for, the i-FORCE MAX can still dish out the power for the TRD Pro drivers. Additionally, if you're all about luxury performance, the Tundra Capstone combines an elegant design with a quality cabin interior with Toyota's renowned durability and engineering. Essentially, whatever kind of truck archetype you're looking for, the Tundra i-FORCE MAX is built to provide that experience while delivering responsive power and tight handling as a full-size, light-duty pickup truck.
The 2023 Toyota Tundra Offers the Perfect Combination of Power and Efficiency
The Tundra being revamped to accommodate the modern sensibilities of today's truck drivers couldn't have come at a better time. And for those of you truck-shopping for something sporty, rugged, stylish, and functional, the 2023 Tundra trims that come with the i-FORCE MAX provide you with the versatility, range, and performance you need. Besides, is there another truck out there that gives you the kind of range, horsepower, torque, and towing capacity that the Tundra offers while also offering the quality care and reliability of a Toyota? That's why the 2023 Tundra continues to impress and take the trucking market by storm.
Back to Parent Page