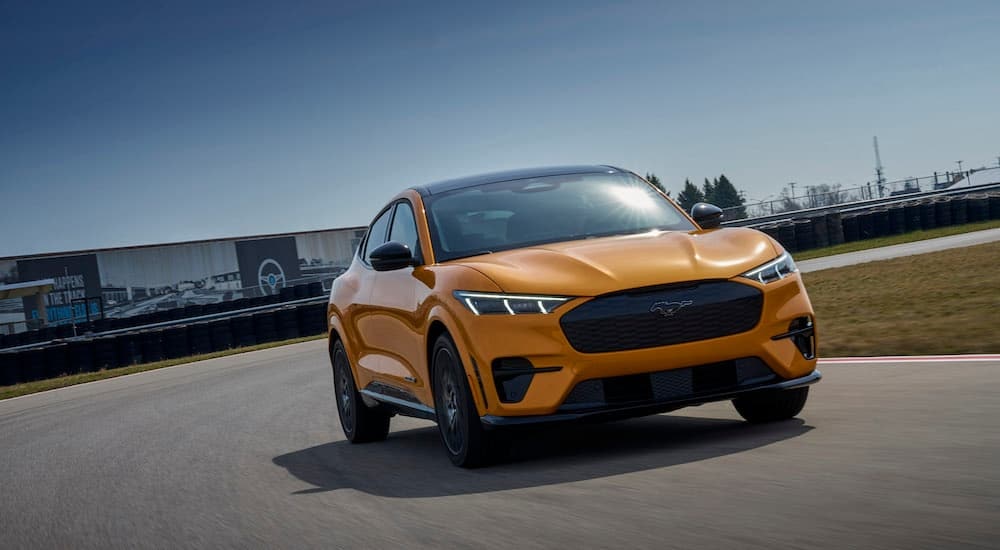 The Electric-Powered Excitement of the 2023 Ford Mustang Mach-E
There's no power like Ford's power. Over the years, Ford has set itself apart from the rest by offering world-class power, capability, and practicality in all their vehicles. So, with the rise of electric and hybrid vehicles over the past decade, it comes as no surprise that Ford is continuing to set an example of innovation and performance with these newer powertrains.
Electric vehicles were once considered a fad that would never catch on, but those days are long behind us, and the 2023 Ford Mustang Mach-E shows that off in a big way. Bringing comfort, advanced technology–and, more than anything–amazing performance and practicality, this electric SUV is sure to draw families out wherever there are electric vehicles for sale, like the selection at Faith's Ford. Driving electric means less stopping while on the road, getting a more exciting and dynamic driving experience, and helping the environment.
Electric vehicles dominate on the front of efficiency. These vehicles can stay on the road for much longer than vehicles working with traditional powertrains can, and the 2023 Mustang Mach-E is no exception. But that's not where the incredible capability of this electric SUV ends. With its intuitive and innovative powertrain, the Mach-E can provide a bold and exciting drive on any road, especially for those in urban areas. But that doesn't mean the Mach-E isn't suitable for outdoor adventure. Plenty of power and capability make this Mustang adventure-ready at a moment's notice, and with a variety of convenience features, you'll be able to keep going no matter what you're facing.
Westminster may be a small town, but the adventures that await here and in the other beautiful areas of Vermont are larger than life, which is why Faith's Ford wants to provide you with the absolute best that Ford has in store so that you can make the most of your journey. They're dedicated to providing the largest variety of vehicles, and if it's a Ford you're looking for, Faith's Ford has everything you could ever need and more.
They are dedicated to providing you with reliable and innovative vehicles on a basis that works for you. Faith's Ford is trusted by many in the Westminster area with all their Ford needs, from new models to service and maintenance. Their lot is always packed with the newest Ford models, so if you're looking for the 2023 Ford Mustang Mach-E, Faith's Ford should be your first stop.
What Keeps the Mustang Mach-E Running?
Westminster may be surrounded by lush, beautiful landscapes and a variety of different places to explore, but sometimes you've got to make your way to someplace with a bit more bustle. That's why the 2023 Ford Mustang Mach-E features an electric powertrain that charges efficiently and has plenty of driving range. Whether you're taking on errands throughout Westminster proper or heading up to Hanover to take care of business, the 2023 Mach-E helps you tackle your tasks and get you back home before you need to worry about plugging it in to charge.
Utilizing a 70kWh lithium iron phosphate eMotor, the 2023 Mustang Mach-E produces up to 266 hp and 317 lb-ft of torque with its standard specs. This is already incredibly impressive among electric vehicles, but true to Ford fashion, there's always room to upgrade. Should you choose to opt for the extended-range battery available on higher trim levels, such as the Premium trim, the vehicle is capable of getting up to an astonishing 480 hp, blowing the doors off of competing vehicles with traditional powertrains.
When it comes to fuel economy, the 2023 Mustang Mach-E can't exactly be measured against other vehicles because it doesn't technically have a fuel economy at all. Its electric powertrain simply features a range of which the vehicle can stay on the road before it needs to be recharged, and the Mach-E certainly touts an impressive range at that. With its standard-range battery, the Mach-E can stay on the road for up to 250 miles, meaning you could make your way all the way up to St. Johnsbury without worrying about stopping for a charge.

Features and Innovations
The technology within electric vehicles is among the most advanced of any vehicle you'll find. All-electric cars aren't only technologically advanced in their powertrains; they also offer some of the most intuitive and innovative technology and convenience features that you could possibly imagine. In the 2023 Mustang Mach-E model's case, these features will keep drivers safe, comfortable, and ready for anything when taking on the broad range of adventures that can be found throughout Vermont and anywhere else the wind takes them.
Convenience is standard with this SUV, and because it's an electric car, those features are just as advanced as its powertrain. With smartphone connectivity features such as the remote key, drivers can start the vehicle and control certain features to a limited degree right from their smartphone. The 2023 Mach-E may keep things fast-paced, but it's still an SUV, which means that it's got plenty of cargo space. 29.7 cu.ft. of space can be found in its trunk when the back seats are in the upright position, and when the backseats are down, it opens up to an impressive 59.7 cu.ft. of space.
Because the Mach-E doesn't have an engine, the front of the vehicle also affords drivers cargo space that may catch some by surprise. With a drainable "Frunk" storage space under the hood, drivers can store anything in this extra storage space, perfect for an impromptu adventure in Bellows Falls Village Forest. Because it is drainable, you can even load it with ice to act as a cooler and drain the leftover liquid out when you're done. Additionally, a standard 360-degree camera with a split view helps to give drivers a full range of vision around their vehicle. The Ford Co-Pilot360 safety suite also comes standard with the 2023 Mustang Mach-E and includes features such as the BLIS (Blind Spot Information System), Pre-Collision Assist with Automatic Emergency Braking, and a Lane-Keeping System, just to name a few.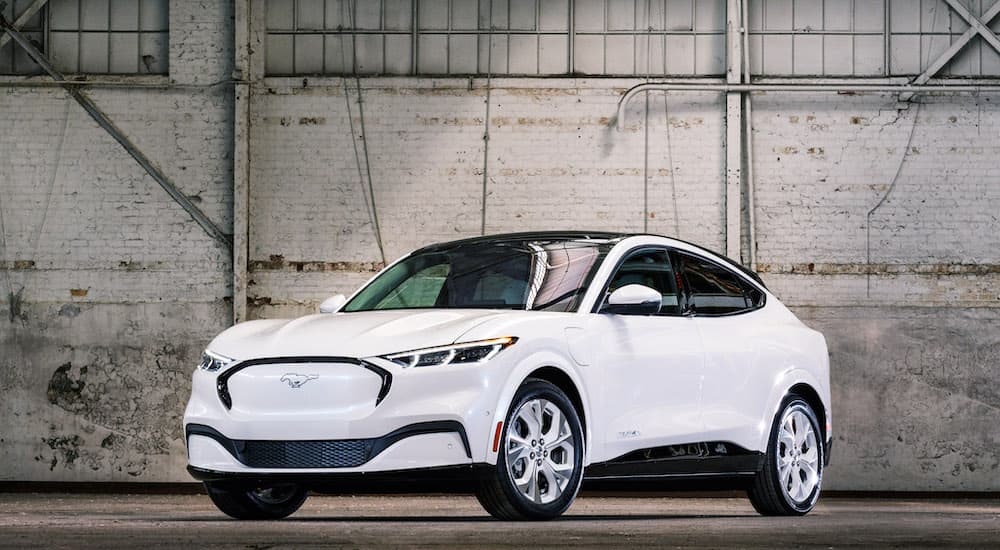 How Faith's Ford Can Help You Get Behind the Wheel of the Mustang Mach-E
There's a large operation going on here at Faith's Automotive, which is why the various dealerships associated with us can assist you so effectively with finding the vehicle that is right for you. Faith's Ford always has the best and most innovative Ford models, and their dedicated team is always ready to help you find the perfect vehicle for your needs. In addition to the Ford models drivers have come to love over the years, Faith's Ford is also stocked with the most advanced EVs, such as the 2023 Mustang Mach-E, for your perusal.
Faith's Ford will do everything they can to help get you behind the wheel of a stunning new EV on your terms, finding the payment plan that works best for your situation. In the following years, Faith's Ford will always be at your service, whether you need an oil change or parts and accessories to deck out your new Mustang Mach-E. They are among some of the most dedicated and hard-working automotive professionals in Westminster, as are all of the dealerships associated with the folks here at Faith's Automotive. If the Mustang Mach-E has everything you could ever want for your eco-conscious adventure, call Faith's Ford today and ask for a test drive so you can see what the buzz is about for yourself!
Back to Parent Page