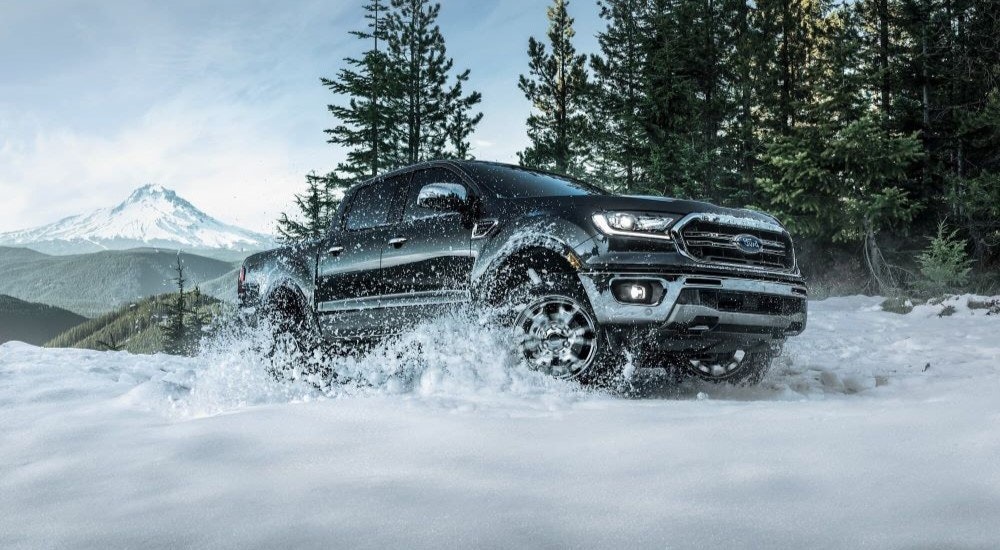 A Battle of Pickups: How to Decide Between the Ford Ranger and the Ford F-150
There is no shortage of options when it comes to used pickup trucks. However, if you've made the wise decision to narrow your selection to used Ford trucks for sale, you may be wondering if the Ford Ranger or the Ford F-150 is best suited for your life, drivestyle, and budget. The most obvious difference between the two trucks is their size. Not only do they each provide different amounts of cargo space, payload, and towing capacity, but the interiors of each model differ in spaciousness, as well.
There are many other differences to consider, as well, which can depend on how you plan to use your truck. Are you interested in off-roading or exploring the trails, or are you a "strictly pavement" type of driver? How many passengers do you typically have with you? What features do you need for a satisfying work/play balance? The best way to settle this debate is to check out a few used Ford trucks in person to get a feel for your preferences. In the meantime, take a look at some of the differences between the Ford Ranger and the F-150.
Size Considerations
There are many reasons why you may decide a pickup truck is the best option for you. You may regularly have oddly shaped or heavy cargo that makes an open bed a flexible way for you to safely move those objects from Point A to Point B. You may also need to hitch a trailer frequently, and while many larger SUVs are capable of towing good-sized loads, the combination of open bed storage and hitch-and-tow opportunities means pickup trucks generally handle a lot more stuff than their enclosed cousins. However, you'll likely want to make sure you don't purchase too little or too much truck for your needs.
The 2021 Ford Ranger, for example, is offered in SuperCrew and SuperCab configurations. The SuperCrew is paired with a five-foot box, while the SuperCab has a six-foot box. The wheelbase measures 126.8 inches, and it's capable of towing up to 7,500 pounds and handling a payload of up to 1,905 pounds.
The 2021 Ford F-150, on the other hand, is offered in a variety of configurations, including a two-seater Regular Cab, SuperCrew, and SuperCab options, as well as a choice between a 5.5-foot short bed, 6.5-foot standard bed, or 8-foot long bed. As such, the wheelbase ranges from 122 to 163 inches. A properly-equipped F-150 can tow up to 14,000 pounds and manage payloads up to 3,325 pounds.
Bear in mind that shopping for a used truck means you'll be able to choose from a variety of pre-owned trucks from different model years. As a result, the exact measurements and capacities of the trucks you check out in person may vary. Some trims may not be available in certain cab/box configurations, as well, so it's a good idea to work with a friendly sales staff member who can help you find trucks with the options you need. However, if you're looking for a truck that can handle a lot of intense work, the F-150 is the clear leader, regardless of which year you choose. The Ranger, on the other hand, is perfect for those who are looking for a truck that is very capable without being very large.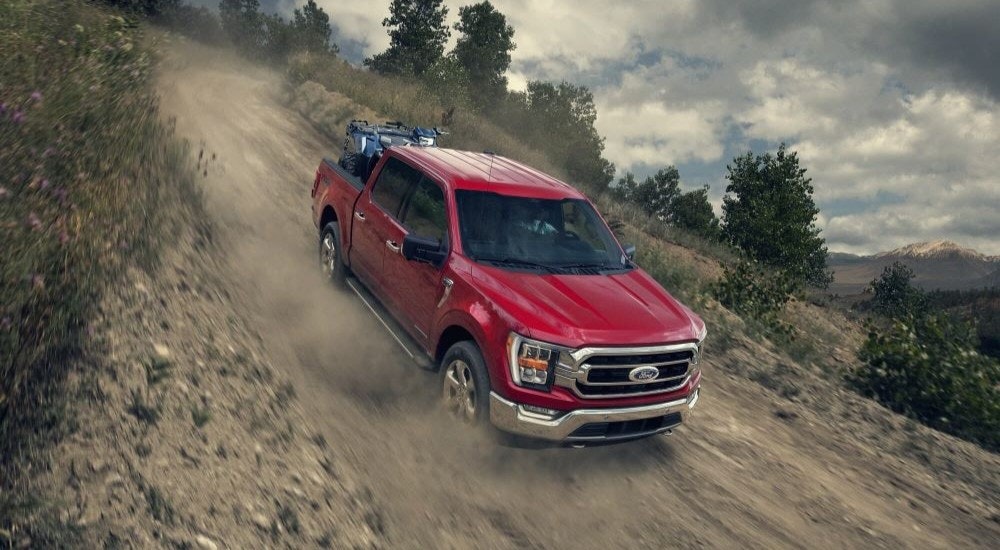 In With the New Without Paying for New
When shopping for a pre-owned truck, it's easy to get caught up in looking for the newest models we can afford. That's not a bad shopping strategy, but it might be helpful to look at the entire current generation of the truck that you're shopping for to determine which year and trim level has all of the features that help you enjoy the commute.
The Ford Ranger will enter a new generation in the 2024 model year, but the current generation was introduced for the 2019 model year. While there have been updates each model year, the essential engineering of the Ranger has remained largely similar since it reappeared on the market in 2019 after an eight-year absence from the assembly lines. Looking back to that pivotal year, the Ranger demonstrates plenty of fantastic standard features. All 2019 Rangers include an eight-inch touchscreen infotainment system with Bluetooth connectivity, pre-collision warning with automatic emergency braking, and automatic headlamps. Higher trims include additional features, ranging from the full Co-Pilot360 suite of driver assistance technology to a built-in Wi-Fi hotspot.
The F-150 received a major refresh in 2021, which added the hybrid version to the lineup as well as the off-road friendly Tremor trim. Prior to that, the most recent generation of F-150 debuted in 2015. However, even in 2015, the F-150 was created to help drivers get work done, including a new full-boxed frame with an aluminum body design, a 360-degree camera, Trailer Sway Control, and Curve Control.
Hitting the Mud
Pickup trucks are popular choices for off-roading, thanks to their impressive horsepower and torque figures. Many truck manufacturers are helping their off-road fans get to the trails faster by providing factory-installed packages and trims that are already equipped with the necessities. Starting with the 2021 model year, the Ford Ranger options include the Tremor Off-Road Package, which adds specially-tuned Fox suspension, all-terrain tires, and a six-switch auxiliary power pad. This package joins and adds to the existing FX4 package, which includes an electronic locking rear differential, front tow hooks, off-road suspension, skid plates, and a selectable terrain management system with modes for mud, snow, ruts, and sand.
The Ford F-150, however, is offered in the extremely popular Raptor trim, which in many past model years has included a unique and more powerful standard engine, standard all-wheel drive, and specialized gears and drive modes for various types of terrain. The Raptor is also structurally designed for climbing, crawling, fording, and mudding, with a specialized suspension, axles, and skid plates.
For those drivers who aren't as inclined to wander off the road, both the Ranger and F-150 are engineered with impeccable road manners. Due to its size, the Ranger is considered easier to maneuver through city streets, but don't discount the F-150's responsive acceleration and braking when hitting the highway with a loaded livestock trailer.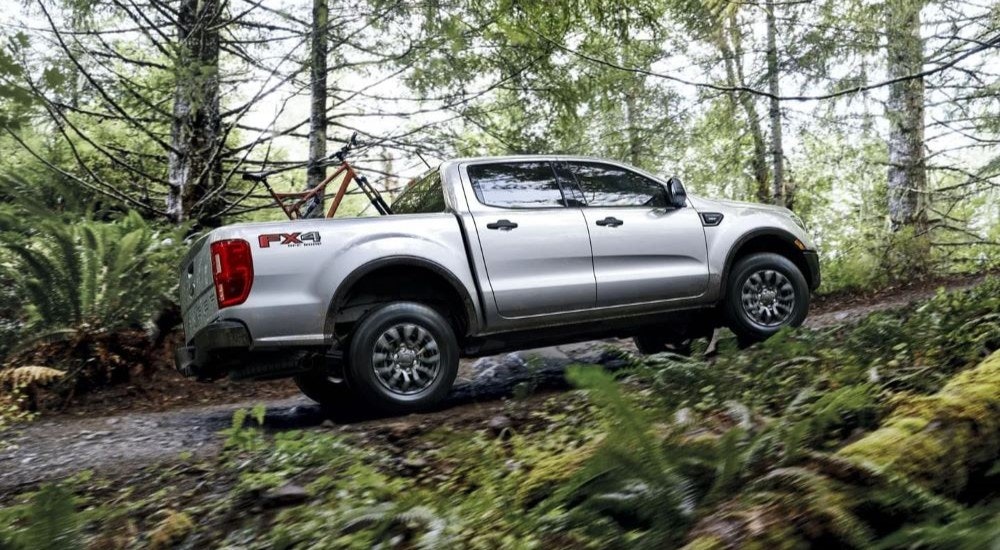 Choosing Between the Ford Ranger and Ford F-150
Unless you have a very clear reason for selecting the Ranger or F-150, such as size or budget, the best way to make a final decision is to hop behind the wheel and try them for yourself. Some drivers appreciate the lighter handling of the Ranger, while others are drawn to the solid feel of the larger F-150. Both the Ford Ranger and F-150 are fantastic trucks that are known for their capability and ingenuity. Though the exact features will vary between model years and trims, each truck is equipped with accessories intended to help the driver get their job done and have a little fun while they're at it.
You may want to check out a variety of trims from each model year in order to determine which one best fits your budget and your preferences. Driving a truck can be fun, especially if you buy a Ford. Deciding which truck is best for you can be a confusing process, though, which is why the friendly sales staff at Faith's Ford, part of Faith's Automotive, is ready to help you get the best possible deal on your next used pickup truck.
Back to Parent Page