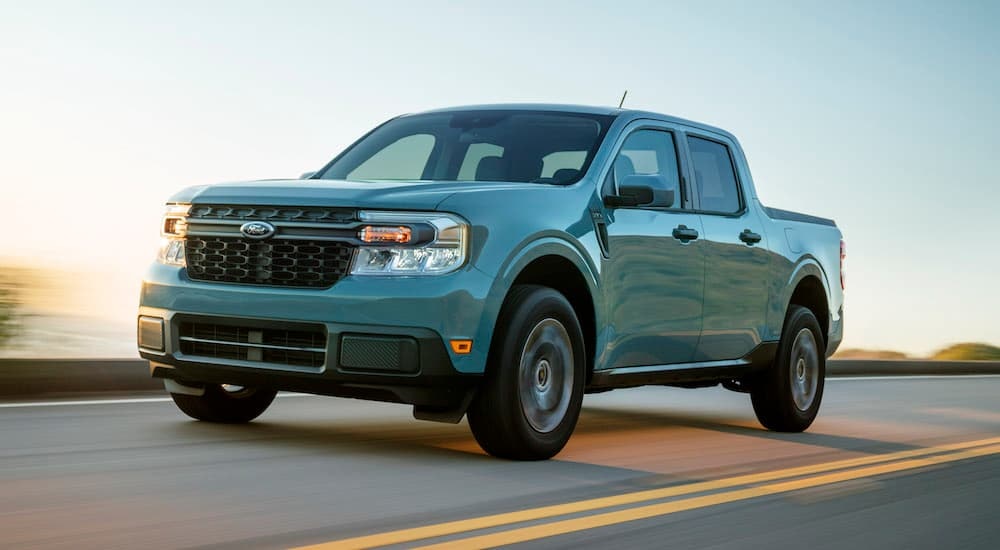 A Look at the Versatile, Playful, and Practical 2024 Ford Maverick
Have you ever received something you'd never considered purchasing yourself but found out a few months later that it was one of your most prized possessions? That's precisely what the 2024 Ford Maverick is – the thing you didn't think you needed, but after a few weeks of driving it, you're not quite sure what you would do without it. Or, more simply put, the Maverick is for truck fans who didn't realize they were truck fans. From its versatility to its practicality and penchant for fun, the Maverick has what's needed to make it indispensable. Not sure one truck can do all that? Stop by Faith's Ford, your Ford truck dealer, and check out the Maverick in person.
The team at Faith's Ford is proud to offer the iconic Ford lineup. Their vast inventory, friendly staff, and state-of-the-art service center provide the tools needed to offer a seamless purchasing experience and long-standing support that continues well past your signing on the dotted line. Stop in today to see what Faith's Ford has to offer. As for the 2024 Ford Maverick? Keep reading to learn about this highly capable and fun-to-drive truck.
An Overview of the 2024 Ford Maverick
Typically, when looking at trucks, it's important to know their towing capacity, ground clearance, and power. And while this is essential information, there's much more to the Maverick than just the basics. Still, the basics are a good place to start. You can choose between the standard 2.0L EcoBoost or the 2.5L Hybrid engine when deciding which Maverick matches your needs best.
You also have three models to compare – the XL, XLT, and LARIAT. All three provide seating for five, an eight-speed automatic, and available All-Wheel Drive. In addition, the Maverick has a payload max of 1,500 lbs regardless of your chosen engine. The only exception is when you add the Tremor Package to the 2.0L EcoBoost AWD. In that case, the payload has a max of 1,200 lbs. While those things are fairly standard, it's the attention to detail to provide the little things that lure you in.
Unparalleled Versatility With the FLEXBED Storage System
Today's trucks aren't just for the worksite, and the Maverick proves that time and again. One of the biggest areas this is seen is in the FLEXBED Storage System. This system takes everything common about truck beds and flips it on its head. When Ford designed the Maverick, they thought about how drivers truly use their trucks and provided a system that enhances that use. The FLEXBED Storage System is standard on every Maverick, no matter which model you choose. What exactly is FLEXBED? It's anything you need it to be.
The system comes with a 120V outlet, a multi-position tailgate, and up to ten tie-downs, but that's the starting point for everything you can do. Thanks to the system's unique design, offering vertical and horizontal slots, you can create segmented storage spaces, bike racks, and more. You can use the 120V outlet to inflate your kayak, listen to music, or use your power tools.
Also, the truck's lowered walls allow you to reach into the tailgate to easily access what you need, while the available LED box lighting gives you the power to do this regardless of whether it's day or night. The best thing is that you can use Maverick's flexible bed how and when you need to. A few 2x4s of 2x6s boards can create sections, or you can access Ford's variety of accessories to build what you need, from bed extenders to tonneau covers and more.
The Perfect Balance of Practicality and Playfulness
Trucks have long been known as practical. Typically, they have a few jobs to do, and they do those jobs well. The same is true for the 2024 Maverick. It can get you comfortably back and forth to work with comfortable seating that includes a standard six-way Manual Adjustable Driver Seat with the XL and XLT or an eight-way Power Adjustable Driver Seat with the LARIAT model. You can also choose heated seats for the XLT, which are standard on the LARIAT. Additionally, your belongings are kept hidden and organized with Rear Under-Seat Storage Bins for all three models. The playful side of the Maverick comes out as you begin to customize it for your needs with several packages to choose from, including the following:
The 4K Tow Package
This package is available for all three models. It has everything you need to haul a camper to Vermont's 55 state parks, including upgraded tires, Transmission Oil Cooler, Upgraded Cooling Fan, and Trailer Brake Controller. On top of that, it offers an increased towing capacity of up to 4,000 lbs.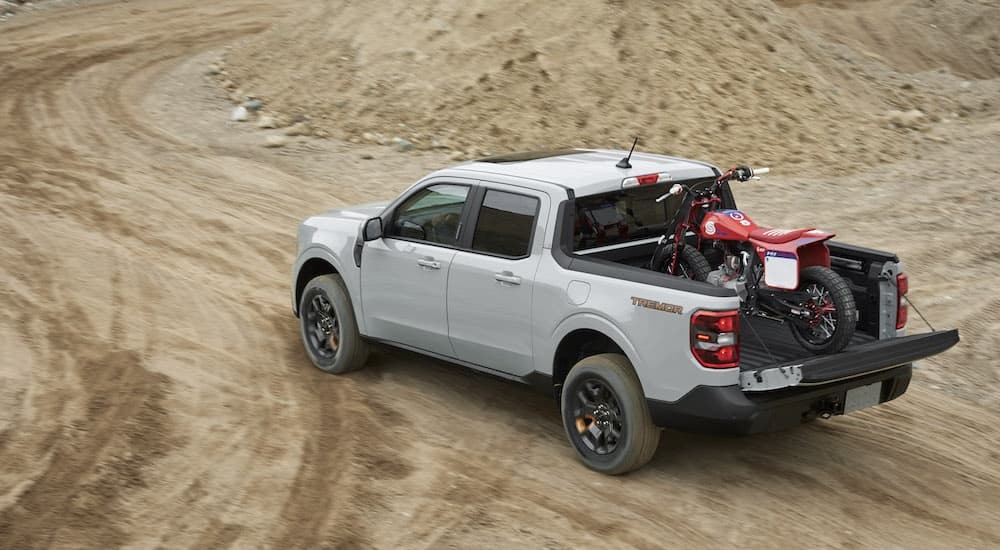 The Ford Co-Pilot360 Package
Offering you the latest in safety, this package includes BLISS with Cross-Traffic Alert and a Lane-Keeping System that helps you remain alert and centered in your lane. The Co-Pilot360 Package is available for the XL and XLT models.
The FX4 Off-Road Package
If your bucket list includes off-roading fun with friends and family, you might want to consider adding this package to your XLT and LARIAT Maverick truck. It requires the 4K Tow Package above and All-Wheel Drive. Adding the Off-Road Package gives you plenty of perks, including Hill Descent Control, Skid Plates, and Selectable Drive Modes. These modes include Normal, Mud/Rut, Slippery, Sand, and Tow/Haul.
The Black Appearance Package
You can add this package to your Maverick XLT if you also have the Luxury package, detailed below. You can also add it to your Maverick LARIAT. The package boosts the appearance of your Maverick by adding 18-inch machined-face ebony aluminum wheels and black accents for the grille, seating, mirrors, and more.
The XLT Luxury Package
When you want to ride in style, the XLT Luxury Package can take you there. It gives you benefits like an eight-way Power Driver Seat, a 400W/110V Inverter, a full-size spare tire, heated seats, a heated steering wheel, and LED Box Lighting.
The LARIAT Luxury Package
Not to be outdone, the LARIAT has its own luxury package that offers a Voice-Activated Touchscreen Navigation System, connection to SYNC 3 for seamless entertainment, heated luxury for your steering wheel, seats, and mirrors, as well as a Bang & Olufsen Sound System. To enjoy this package, you also need the Ford Co-Pilot360 Package.
The Tremor Off-Road Package
There's the 4K Off-Road Package, and then there's the Tremor. This is the pinnacle of off-road fun, giving you the rugged power of the long-standing Tremor name. You get an off-road-tuned suspension, Trail Control, unique Tremor detailing on things like the grille, tow hooks, and seats, plus the innovative Tremor instrument panel and all-weather floor mats. These are just a few off-roading tools in this package that are available on the XLT and LARIAT with advanced four-wheel drive.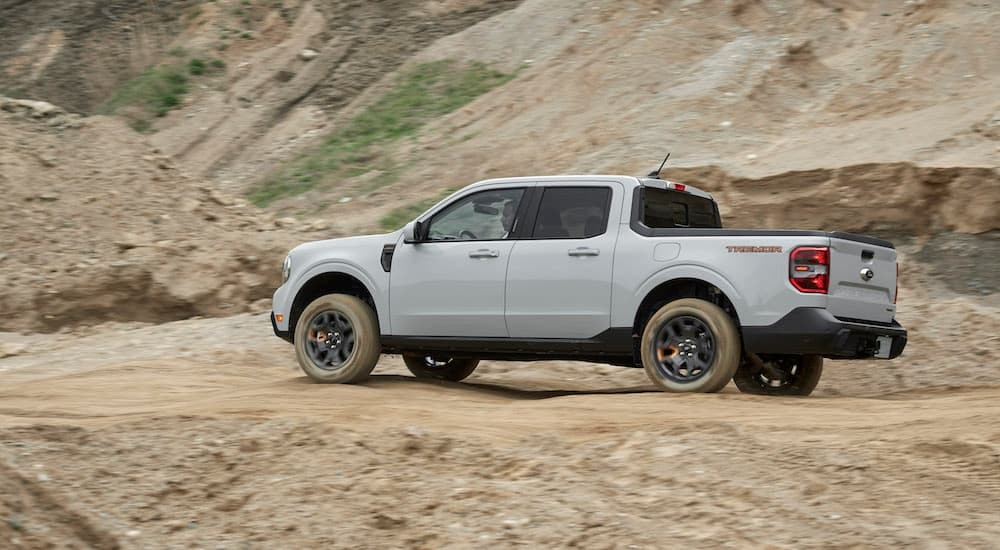 Check Out the 2024 Ford Maverick Today
Between the versatility of the FLEXBED and various package options, you can see how the Maverick appeals to even first-time truck drivers. Plus, you get support from our team at Faith's Automotive Group. At Faith's Ford, they carry out our mission every day by providing you with a knowledgeable sales team that can answer any questions you have about your new Maverick and a finance team that works hard to ensure you get the best rates available.
In addition, the service department is dedicated to ensuring you not only get quality service but that you also understand your truck's needs. Stop in today to talk with Faith's Ford team. They can walk you through your Maverick options, show you the dynamic advantages of the FLEXBED, and explore what packages are best for you. It's time to experience the 2024 Ford Maverick for yourself, and the team at Faith's Ford can help.
Back to Parent Page