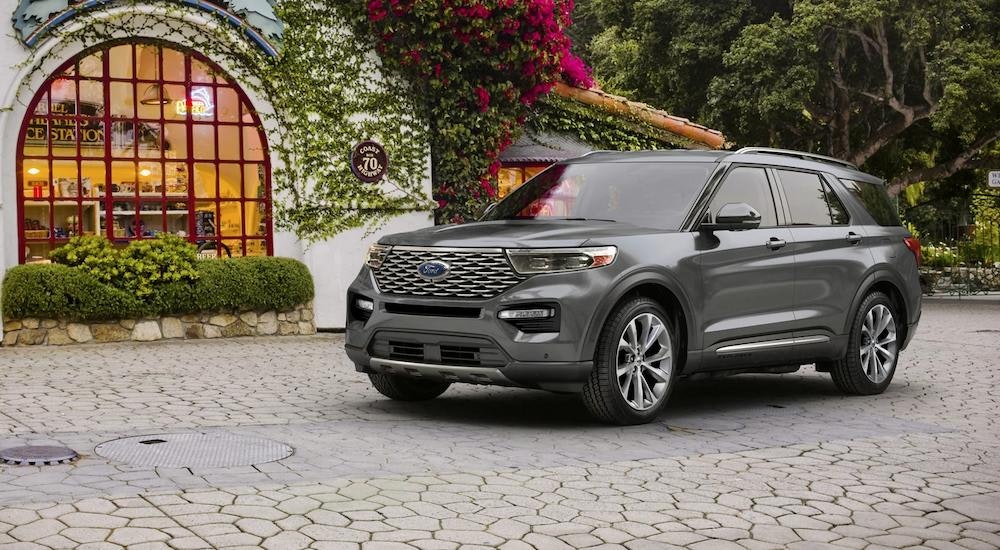 A Look at Three Standout Models From Ford's 2023 SUV Lineup
SUVs are extremely versatile vehicles. They provide capacity for domestic use, notable towing capacity, luxury interiors with fine materials, and everything in between; your SUV is whatever you want it to be on any given day. If you want a reliable vehicle from a trusted brand, you'll want to find your way to a Ford SUV dealer, and if you're a Vermont driver, you'll want to visit us here at Faith's Ford, located conveniently in Westminster. We offer an extensive selection of Ford SUVs, and our friendly and knowledgeable team is here to help you narrow down some great options to enhance your daily travels.
Today, we're going to provide you with a look at some exciting options from the 2023 Ford SUV lineup. Ford has quite an expansive SUV lineup, with small, midsize, and full-size options perfectly tailored to your needs and the size of your family. Some drivers are looking for a luxury commuter, while others may be looking for an athletic off-roader, and some are looking for both of those in one; Ford caters to all those drivers and more. So, let's look at three great options: the Escape, Explorer, and Expedition. By looking at these three, you'll be able to get the gears turning and ultimately arrive at an informed decision.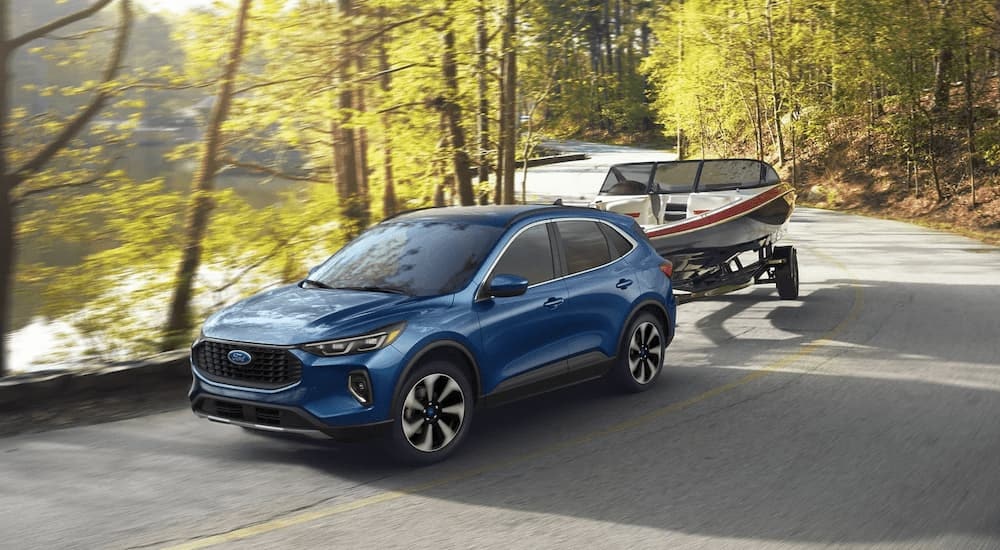 The 2023 Ford Escape
The Escape is a favorite SUV because it allows you to do just that; escape, and do so with style. With its combination of luxury features and surprising trailblazing capability, the Escape is the perfect compact SUV for those seeking the luxury and convenience of a sporty sedan, the interior space of an SUV, and the athleticism of a moderate off-roader. Sound too good to be true? It is true, and you'll believe it when you see it. The Escape features some of the most advanced technology Ford has to offer with its SYNC 4 system, meaning drivers are always well-connected and informed.
What's even more exciting about the 2023 Escape is that it offers exceptional efficiency with EcoBoost, hybrid, and plug-in hybrid engine options. EcoBoost engines are at the top of the line for direct-injection fuel efficiency, but if you're looking to hone in on efficiency and experience the thrill of electric driving, then the plug-in hybrid option will be the direction you want to go. Not only will you save a significant amount of money on gas, but you'll likely have more fun driving your escape as well. The Escape is a perfect compact SUV for young families who need something flexible for early family life, commuting, and adventures in between.
The 2023 Ford Explorer
Think of the exciting three-fold nature of the Escape (convenience and luxury, interior space, and athleticism) and double that. That's the Explorer. With seating for seven and a total cargo capacity of 87.8 cu.ft. (behind the first row of seats), the Explore gives you everything that's great about the Escape but on a much bigger scale.
Not only does the Explorer provide bigger dimensions, but it also provides more capability. The Explorer is the perfect vehicle for those looking to execute heavier-duty camping trips and off-road excursions. It's not an "off-roader" on the same level as the Bronco, but this SUV can certainly get off the beaten path in a way that many other SUVs in its class just cannot.
Along with this off-roading capability comes amazing towing capability; with a maximum of 5,600 lbs, your Explorer will allow you to haul precious cargo for the trip. Whether it's a boat, a small trailer, or a hefty load for a DIY project, your Explorer is up to the job. You'll have a lot of fun exploring in your Explorer, and it's strong enough to ensure you've got the gear you need to explore well. The Explorer is a super exciting vehicle for anyone who likes to live both practically and adventurously.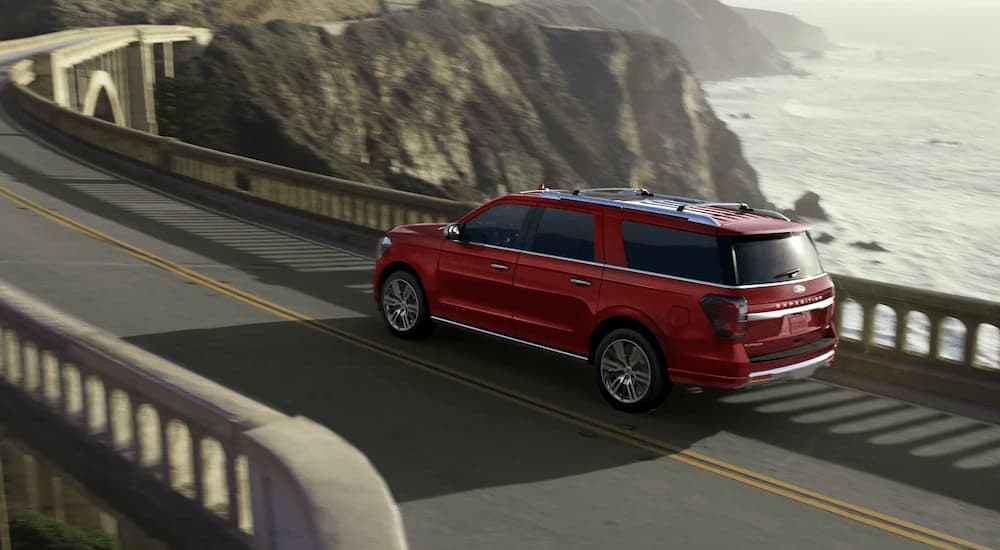 The 2023 Ford Expedition
The Expedition is Ford's premiere SUV. With three rows of seating for up to eight passengers, the Expedition provides the whole package for the whole family. The Expedition has it all–the luxury features, the interior space, the comfortable seating, the technology, and more. But the 2023 Expedition has even more, with several fantastic packages and special editions. Some of our favorites are the Timberline, the Stealth Performance Edition Package, the King Ranch Edition, and the Platinum Model.
The Expedition Timberline leans into the Expedition's off-roading capabilities. Don't be fooled; it may look like a neighborhood SUV, but the Expedition can hold its own on the trails, especially in the Timberline model. With a High-Output EcoBoost engine, the Expedition has the heart it needs to get you off the road and into nature. Moreover, available rooftop rails make for great storage, depending on your adventure.
The Stealth Performance Edition leans into sleek, luxury features while focusing on those high-performance specs. A high-output 3.5L engine puts the Stealth Performance Edition Expedition above your average luxury SUV. The powerful specs combined with stylish choices like red interior stitching and red brake calipers mean you'll be cruising in style, with unique accenting that is sure to turn heads.
The King Ranch Edition is a great work vehicle for at-home DIY projects with stylish features. The 4×4 models come with front tow hooks, meaning you'll be able to get more done, and LED Reflector Headlamps mean you'll have better night vision, especially in dark areas. And if you want straight moonlight, the Panoramic Vista Roof will let the light pour in, sun or moon, rain or shine. The interior of the King Ranch Edition is a rustic escape from suburban life, with Del Rio leather in all areas of the cabin donning the acclaimed "W" and Kingsville stitching. The King Ranch has a very different taste from other Expedition models, but it's one that any old-school outdoorsman will love.
Now for the Platinum Model; this one's the top dog. Our list here isn't exhaustive; there are other Expedition special editions and trims, but the Platinum sits at the top of the list for a reason. The Platinum model goes all-in on style. Platinum combined with satin aluminum and chrome accents make for a clean and refined exterior, leading to leather-trimmed seats on the inside; it's a look you won't find anywhere else, and it's one that will make you want to be behind the wheel of the elegant full-size vehicle. The Expedition is holding nothing back for 2023. If you're looking for a versatile, luxurious, and exciting SUV, this is your vehicle.
The Whole Package
SUVs provide the whole package: luxury, storage, seating, technology, towing, specs, and more. Keeping with the theme, Ford provides the whole SUV package: we've looked at just three options here, but there are several others that we haven't covered that have a lot to offer drivers. Many brands offer a couple of SUVs, but Ford offers a whole lineup of SUVs in a variety of sizes, styles, and capability focuses. Whether you're looking for a luxury commuter, a family loader, an off-road camper, or anything else, Ford has an SUV to accommodate your needs. Faith's Ford is ready to get you behind the wheel for a test drive. Try out a few, see which one resonates, and get ready to enjoy traveling in style.
Back to Parent Page