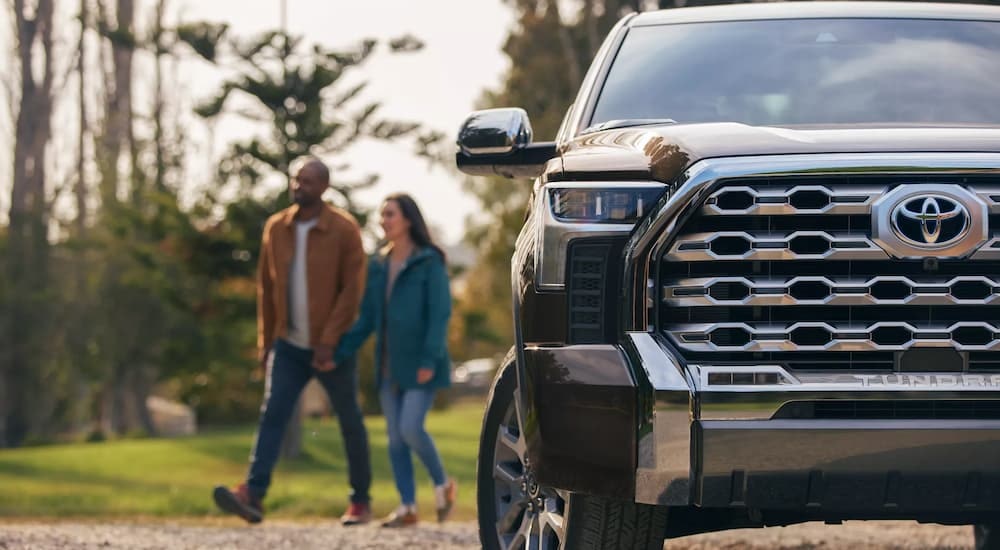 A Used Toyota Truck Showdown: The Tundra vs. The Tacoma
Investing in a truck can be a big decision. Not only is it a large financial decision, but it will also affect your quality of life. When you get the right pre-owned truck, it can help you with work, day-to-day commuting, and well-deserved weekend trips away. It's important to pick out the right make and model that best suits your lifestyle and budget. Start with a great brand like Toyota, and then take a look at their selection to see what pickup truck best fits your criteria. The process doesn't have to be stressful. In fact, it can be fun! Especially when you shop with a brand that offers a wide array of models for just about any type of driver.
Toyota has gifted the world not one but two rugged performance trucks: the Tundra and the Tacoma, both offering a large package of desirable features. Both have been around for a while, sporting a large inventory of high-quality used models that will save you thousands compared to their new counterparts. Plus, both come with the reassurances that accompany buying a Toyota. Which begs the question: which should you choose? Once you've seen what each truck offers, you can head to a dealership to see them up close and personal. For Vermont drivers considering these two exceptional trucks and looking for a great used Toyota dealer near Brattleboro, VT, with an extensive selection of pre-owned models, look no further than Faith's Toyota, located conveniently in Westminster. Armed with that information in mind, there is just one important question…
Which Toyota Truck Should I Get?
The Toyota Tundra and the Toyota Tacoma might look similar from afar. They both proudly wear the Toyota badge, look as capable as they are, and have a timeless style that will look great many years after they roll off the assembly line. Each has the capacity to tow, haul, and venture off the pavement for adventure. Both also offer quality powertrain options and outstanding handling and suspension. However, there are some variations in size, price, and features. Let's discover what makes these Toyota trucks unique.
Of the two, the Tacoma debuted first. It was designed in 1995 to be Toyota's flagship truck, replacing the preceding Toyota Pickup. Then in 1999, the Tundra hit the scene as America's first full-size pickup truck out of Japan. Toyota introduced the Tundra to compete with other successful full-size trucks like the F-150 and the Silverado. Each offers dependability and features that make operation comfortable and convenient. Used models from recent years, like 2018 to 2021, offer modern safety and driver assistance features and more efficiency over older generations. Faith's Toyota can help you discover which years meet the criteria you have in mind. For the sake of learning, let's look at some notable Tacoma and Tundra models from these years to give you an idea of what you can expect.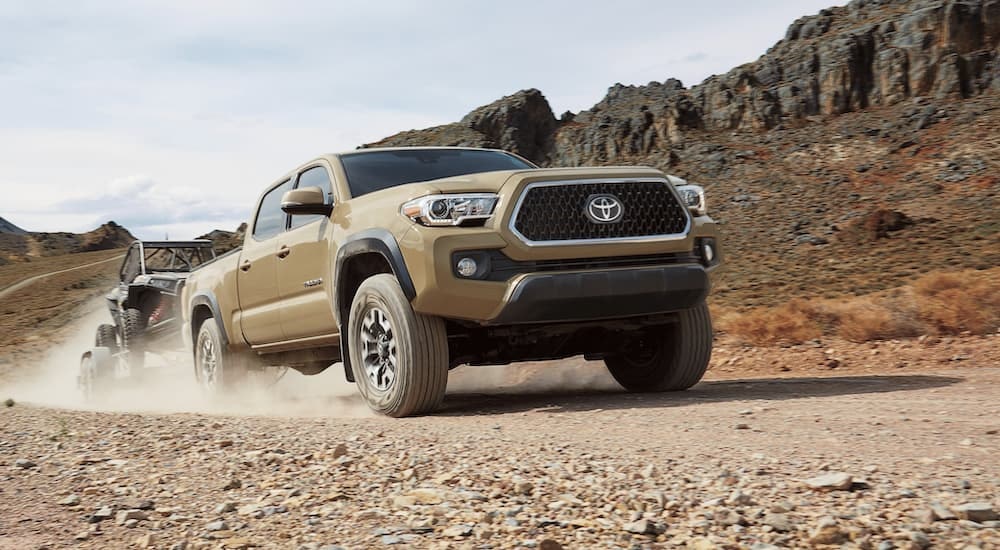 The 2018 Tacoma
As the smaller of the two, the Tacoma is inherently easier to park and maneuver. It offers manual transmission options for drivers who crave that control, so if a manual transmission is at the top of your list, the Tacoma is a great option. If you find yourself looking at the base level 2018 Tacoma SR, you'll find a 2.7L inline DOHC four-cylinder engine, producing up to 159 hp and 180 lb-ft of torque. Higher trim levels offer a 3.5L DOHC V6 that delivers 278 hp and 265 lb-ft of torque, so if power in a midsize package is your flavor, ask us here at Faith's Toyota about a 2018 Tacoma TRD or Limited.
The 2018 Tacoma has plenty of options, like available four-wheel drive and several cab styles, including the Access Cab, with its 6-ft bed, and a Double Cab, which comes in either a 5-ft or 6-ft bed. It comfortably seats four and offers interior upholsteries that are durable and easy to maintain. If you need your Tacoma SR to work, the 2018 models can tow up to 6,400 lbs when properly equipped. When this truck was new, the MSRP was $26,195, so the used versions will be well under $20,000.
The 2018 Tundra
Drivers looking for a larger, more powerful truck should look at the used Tundra. The size allows for higher towing capacities and more payload. The base Tundra SR, which initially sold for $32,815, comes with a 4.6L i-FORCE V8 that pairs with a six-speed automatic transmission. It delivers 310 hp and 327 lb-ft of torque. Craving an even beefier powertrain? The available 5.7L i-FORCE V8 has an output of 381 hp and 401 lb-ft of torque. Both configurations have a DOHC 32-valve double overhead cam.
The larger engine and body are also accommodated with a larger interior and more space for payload. The 2018 Tundra cab styles include a Double Cab with a 6.5 or 8.1-ft bed and a CrewMax that comes with a smaller 5.5-ft bed. It fits up to six passengers, and if you need off-roading capabilities, you can find models equipped with four-wheel drive. When properly equipped, the larger body is capable of up to 10,200 lbs of towing capacity.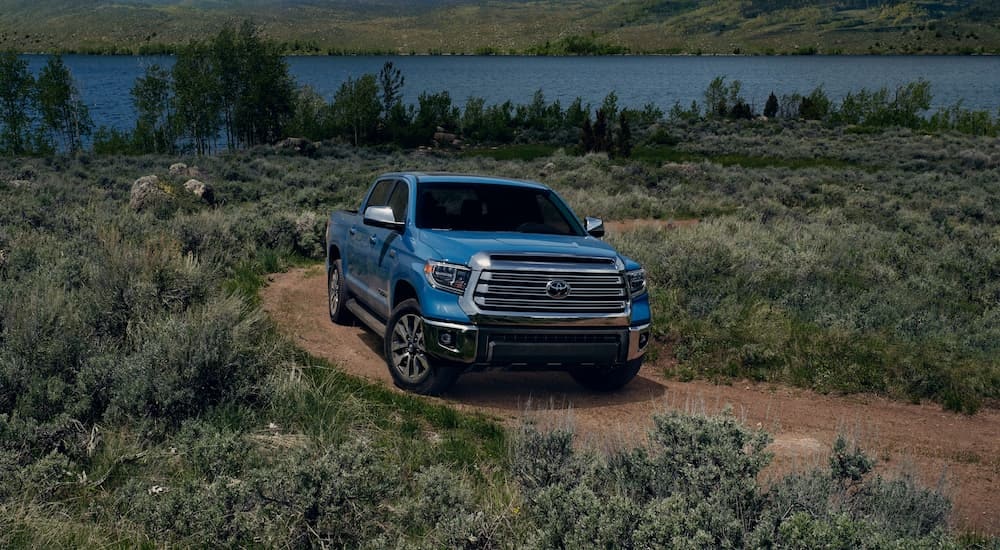 The 2021 Tacoma vs. The 2021 Tundra
Looking for something newer, with more technology and less mileage? Ask Faith Toyota about their 2021 models. Both engines received upgrades to their performance, and many key differences still revolve around the size difference between the two trucks. However, it's worth mentioning some of the exciting developments that enhance the two Toyota models for 2021.
For the 2021 model year, Toyota Tacoma released a limited Trail Edition trim, with only 7,000 produced. It comes in both rear-wheel and four-wheel systems and has unique 16-inch TRD-inspired wheels, lockable storage, and a 120-volt outlet. The higher trim levels of the Tacoma, such as the TRD Pro, come with the 3.5L V6, capable of towing 6,800 lbs. The 2021 transmission is a six-speed Electronically Controlled Automatic Transmission with Intelligence (ECT-i). It also has a notably larger interior, with the passenger capacity moving from four to five.
For 2021, Toyota expanded on the Tundra's capabilities, as well. The base SR model comes with a rugged 5.7L Aluminum i-FORCE V8 engine that delivers a hair-raising 381 hp and 401 lb-ft of torque. If you need that sort of capability, then the Tundra is definitely for you. The six-person seating capacity is more generous with legroom than the smaller Tacoma. Plus, this is the model year that Toyota added the Nightshade trim to the lineup, with its intimidating black exterior accents, black 20-inch rims, and black leather upholstery.
Two Great Used Trucks, Both Available at Great Prices
Shopping used doesn't have to be stressful when you shop for a pre-owned Toyota. These dependable vehicles are well-known for their longevity, making them ideal when you're looking to save money and get something a few years old. Being that the Tacoma is a midsize, while the Tundra is a full-size, this answers many questions about key differences, such as specs. The larger Tundra has the space for a larger, more powerful engine, therefore granting larger hauling and towing capacities. If you need the same level of power to match your spacious interior, the Tundra is the way to go.
However, bigger doesn't always mean better. The Tacoma is the perfect truck for a driver who doesn't need a lot of towing capacity or a huge engine. The Tacoma is great for someone who needs to accomplish some light towing but doesn't need tremendous strength. Plus, it's more efficient, and the base costs are smaller than that of the Tundra. Whichever truck you end up with, you'll be experiencing Toyota's smooth ride quality and dependable performance. Get over to Faith's Toyota and check out both today, and we'll be happy to help you decide which used model would work best for you.
Back to Parent Page