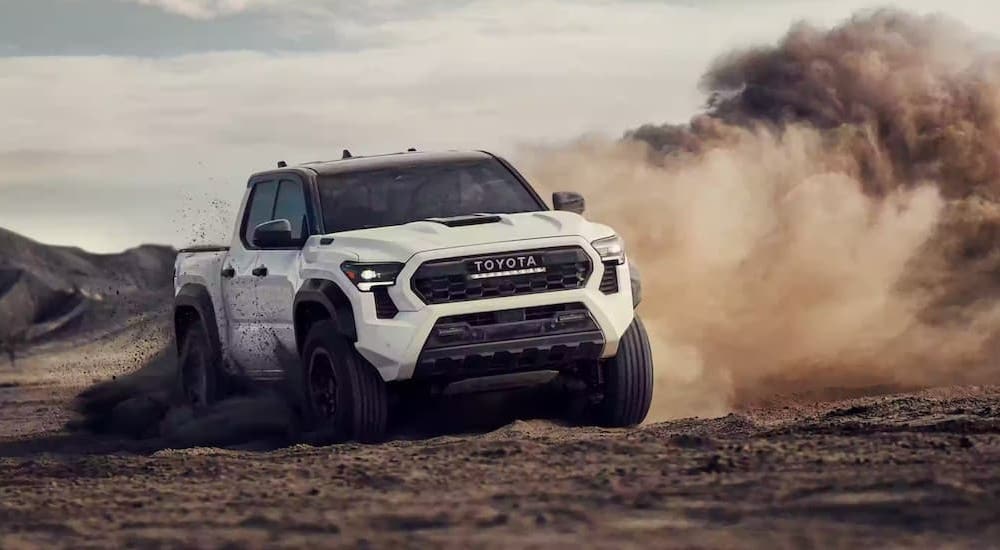 Adventure Awaits: What's New on the 2024 Toyota Tacoma
Toyota is ready to go head-to-head with rivals in the midsize truck segment with the arrival of the completely overhauled 2024 Toyota Tacoma. There is perhaps no pickup in this segment whose name resonates as much with buyers as the Tacoma, so Toyota owners are already excited about this new release. Beloved for its unrelenting durability, off-road ingenuity, ruggedness, and vast versatility, the Tacoma is built for both adventurers and commuters.
When you shop for a Toyota Tacoma for sale at Faith's Toyota, you will get to see for yourself just why people love this truck. You get a lot of configuration options with this truck, so you can customize it to your exact specifications, getting just the truck you want and need. But before you start placing your custom order, you need to know what's new on this next generation of Tacoma models. From enhanced power from the new powertrain options to a slew of additional infotainment and safety features, here are the new things you will find on the 2024 Toyota Tacoma.
Enhanced Power
Each 2024 Toyota Tacoma is powered by a 2.4L turbocharged four-cylinder engine. However, it has several iterations with different power outputs. You can pair this engine with an eight-speed automatic or six-speed manual transmission. You can also outfit the Tacoma with either rear-wheel drive (RWD) or four-wheel drive (4WD). The standard turbo-four delivers 228 hp and is exclusively equipped on the base SR trim level.
iForce variations of the turbo-four come on the rest of the Tacoma's lineup. The iForce's more powerful iteration gets the truck a maximum power output of 278 hp and 317 lb-ft of torque. For the hybrid iForce Max, which is found solely with the automatic transmission, the Tacoma gets a solid 326 hp and 465 lb-ft of torque. This hybrid system places an electric motor between the transmission and engine and matches that with a nickel-metal hydride battery.
A Body Inspired by the Body-On-Frame TNGA-F Platform
The new Tacoma's bodywork is beefier than ever before! The body-on-frame TNGA-F platform Toyota uses on the recently revamped Tundra makes sense for use on the Tacoma pickup. This body style offers dramatic enhancements, thereby giving the Tacoma more contemporary driving dynamics. The TNGA-F platform is able to be easily adapted, changing rigidity for more stiffness, widening or lengthening the vehicle. Going for a body-on-frame design versus a unibody one has its advantages for trucks. This chassis offers higher ground clearance and better off-roading performance. Since this platform can be redesigned repeatedly, Toyota will have lower production costs; therefore, switching to this style is a win-win for buyers and Toyota alike.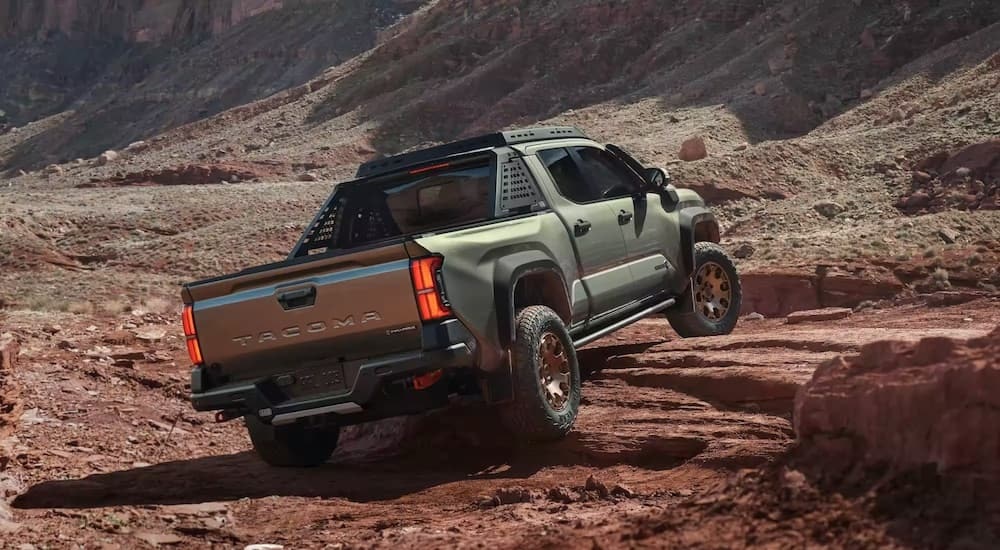 More Off-Roading Capabilities From New Trim Levels
Now that the Tacoma comes with the TNGA-F body-on-frame chassis, Toyota can build the Tacoma for more off-roading capabilities. For 2024's lineup, that means welcoming the addition of a few new off-road-oriented trim levels. Back for the 2024 model year is the PreRunner trim level, which was last seen on the lineup in 2015. The PreRunner is automatic only and is powered by an upgraded 2.4L engine. This truck has a front lift and twin-tube shocks, not to mention that it is a 4×2 with an electronically activated rear-locking differential. The rear suspension is a leaf-spring design known for being durable, reliable, and perfect for an off-roader.
The all-new line-topping Trailhunter trim level gives you even more enhanced off-roading capabilities. It receives power from the standard hybrid i-Force Max powertrain for immense power. Rear remote reservoirs accompany the Trailhunter's highly effective 2.5-inch Old Man Emu forged monotube position-sensitive shocks. Protecting the front, transmission, and rear differential are hot-stamped steel skid plates that can endure damage sustained by off-road terrain. The air intake is mounted high for extra protection, and an extremely strong ARB steel rear bumper comes with its own red recovery hooks.
A Cabin That Looks and Feels Modern
The Tacoma's restyled cabin looks and feels more contemporary than the outgoing generation's. Toyota takes the Tundra's freshly styled interior and trims it down ever-so-slightly to make it work inside of the Tacoma. An 8-inch infotainment screen is standard issue, although an upgrade is available for a massive 14-inch version, which sits stack-dab atop the center stack, giving you clear visuals. The climate controls are placed directly beneath the infotainment screen, resulting in a control setup that is straightforward and logical. The vehicle system buttons are massive, as is the gear shifter, and they're conveniently located at the base of the center console.
The TRD models are particularly striking. Just peek inside the TRD Pro, you will see an insane amount of red trim, including sporty-looking red leather upholstery. In the back, you can see that the front IsoDynamic Performance Seats have shock absorbers mounted onto them to provide extra stability when you go off-roading. Sure, rear seat occupants lose knee space, but you will feel nice and secure up front in these innovative new seats.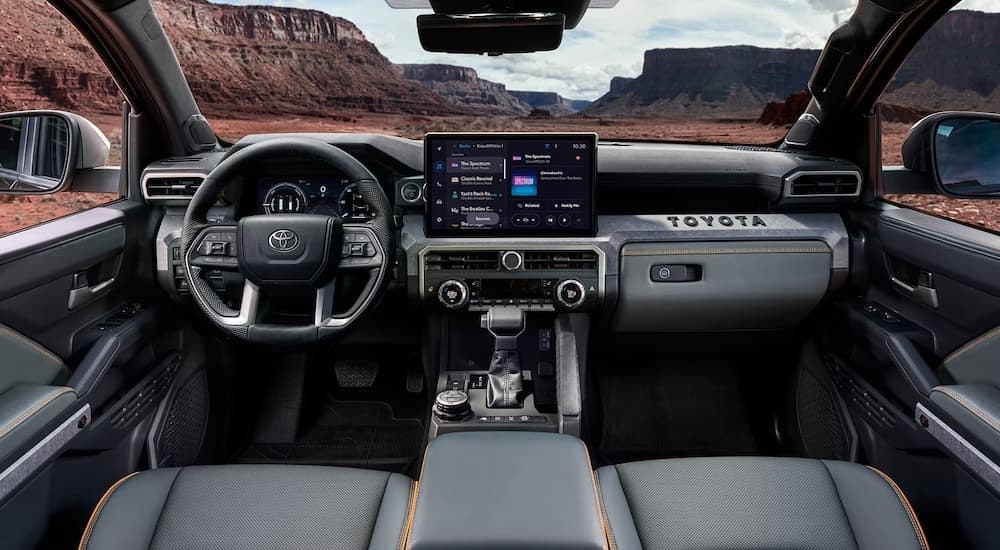 More Tech and Safety Features
Toyota is leaning heavily into the off-road emphasis with the new Tacoma's design. However, Toyota keeps the truck usable as a commuter vehicle with all of its included tech and safety features. The infotainment system is now the same as what comes on the Tundra, so you get a streamlined and simplified approach to technology from Toyota. Toyota makes the Toyota Safety Sense 3.0 bundle of driver aids standard across the Tacoma's lineup. A Pre-Collision System with Pedestrian Detection, Dynamic Radar Cruise Control, Lane Departure Alert with Steering Assist, and Road Sign Assist are part of this suite. A new feature called Proactive Driving Assist is all-new to the system. When you approach a curve, the adaptive cruise control speed will reduce for a safer turn.
Get Behind the Wheel of the 2024 Toyota Tacoma Today
Faith's Toyota wants to see you get behind the wheel of the 2024 Toyota Tacoma and find out what the excitement is all about. They are staffed by knowledgeable and friendly sales personnel who can answer your questions regarding the Tacoma. They have a massive inventory of great Toyota trucks to choose from, but they can also help you custom-build your 2024 Tacoma, getting you a truck that checks every last box for you, tailor made to your unique driving needs and lifestyle.
In addition to a team that's ready to help you find the perfect Tacoma, Faith's Toyota also has a dedicated finance center that will walk you through the financing process and help you create a payment plan that best fits your budget. And once the keys have been handed over and you've driven off their lot in your new Tacoma, they'll be here for you throughout the ownership of your truck. This includes a service and parts department that is ready to help you with everything from a basic oil change to more complex engine repairs. Contact Faith's Toyota using the online contact form or by reaching out during their normal business hours to ask questions or set up a time to take one for a test drive. They look forward to working with you and getting you behind the wheel of this exceptional truck.
Back to Parent Page