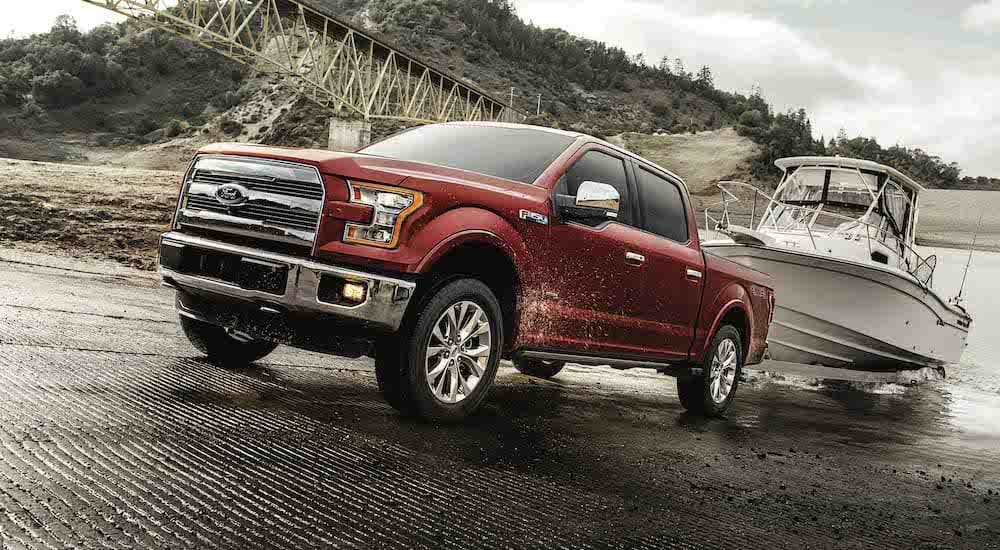 Fantastic Used Trucks That Are Perfect for New England Drivers
Vermont is home to some of the most beautiful landscapes and diverse culture in the country. With such amazing, lush outdoor areas full of things to explore, drivers need a high-caliber truck that can handle it all. There's always something going on around the Westminster/New England area, whether that's hard work, intense outdoor adventure, or just the bustle of day-to-day life.
At Faith's Automotive, we're well aware of the kind of performance drivers need around New England, which is why we always have a variety of new and used trucks for sale at our multiple dealerships. With so many automotive brands out there to choose from, we want to provide you with the most extensive selection of vehicles possible. From Toyota to Ford to Chevy, you can find all sorts of fantastic trucks at our locations so that you can tackle that fierce New England weather with confidence.
A sturdy truck can help you make your way through all of life's challenges. With a wide variety of performance specs, convenience features, and efficiency ratings, these trucks can offer any driver the utility they need. Tough work projects can be made a breeze with the capability these vehicles afford, and adventures from Claremont to Cavendish can be taken up a notch with the off-road features they have in store.
At Faith's Automotive, we're all about providing drivers all over this beautiful state with the vehicles they need to take on their adventures. Choosing your next vehicle can be a long and winding process full of anxiety and stress, but at Faith's Automotive, our teams will do everything possible to lighten the load and make the experience a pleasant one. With a fantastic selection of sedans, SUVs, and incredible trucks, you'll be sure to find exactly what you want at our dealerships, and we're certain you'll drive home happy.
The 2018 Ford F-150
Keeping a town like New England running requires a lot of heavy lifting. If it's unbeatable power you're looking for, there's no brand that can give you what you need quite like Ford. The Ford F-150 is a truck that requires no introduction; being America's best-selling pickup for 46 years, the F-150 has proven itself to be a strong and sturdy companion like no other. The 2018 model offers some particularly impressive power that will surely serve anyone looking for a high-class work truck.
The 2018 F-150 features five powertrain options, ranging from a 3.3-liter V6, a 2.7-liter V6, a 3.5-liter V6, a 3.5-liter high output, and a 5.0-liter V8 option. These engines provide the F-150 with an immense amount of power across the board, with its standard 3.3-liter V6 option producing 290 hp and 265 lb-ft of torque and its highest 3.5-liter option producing 450 hp and 510 lb-ft of torque.
Not only do these engine options make the F-150 a sporty and fast ride, but they also make the F-150 more than capable from a work standpoint. When properly equipped, the 2018 Ford F-150 features a maximum towing capacity of 13,200 lbs, with a max payload of 3,270. With this level of capability, even the most difficult work projects become a breeze. Of course, the 2018 F-150 also features a variety of interior comfort and convenience amenities that make it incredibly comfortable throughout any task, and with all-encompassing safety technology, you can take on your work day with peace of mind.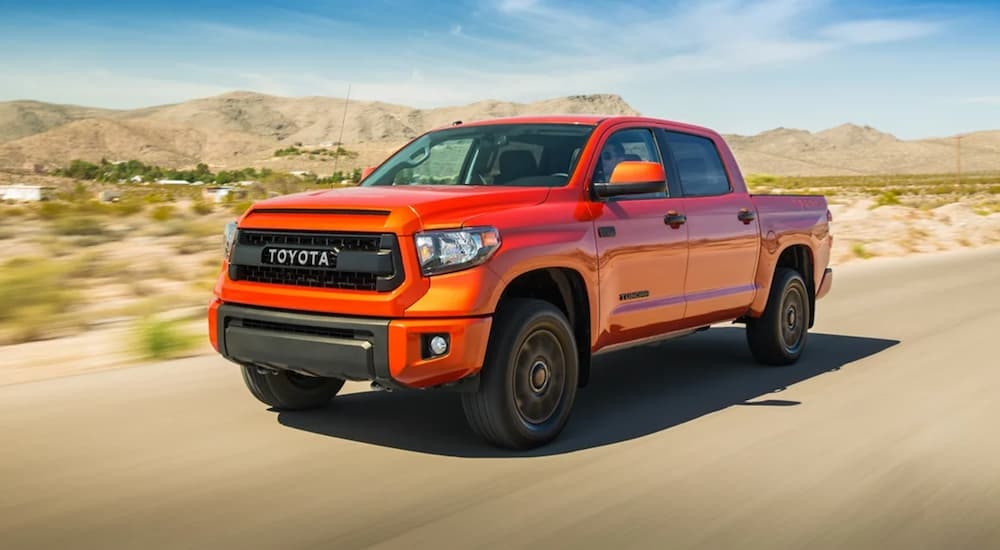 The 2015 Toyota Tacoma
There's plenty of adventure to be found throughout the gorgeous Vermont hills and valleys, and the Toyota Tacoma can help you find it. With all the off-roading capability thrill-seekers could ever need, the Tacoma model is perfect for those who want to keep the excitement going from Roxbury to Brookline. Armed with a standard 159 hp 2.7-liter 4-cylinder engine and an optional 4.0-liter V6 engine that produces 236 hp, the 2015 Tacoma can provide strong performance regardless of where it goes. This engine is partnered with a 5-speed transmission, making this model efficient and versatile. This Tacoma also features an intuitive suspension designed to keep the ride comfortable on any terrain, making it an incredibly versatile and adaptable pickup.
To make adventuring all the easier, the 2015 Tacoma also features a litany of off-roading features that make it possible to take the ride off the beaten path at a moment's notice. Electronic locking rear differentials help to ensure you never get stuck by diverting power to the back wheels exclusively, so you get out of mud, sand, or any other rut you find yourself in. Hill-start assist and downhill-assist control make it easy to take on hills on multiple levels. If you get out on an incline to see the sights, the hill-start assist feature ensures you can get things moving safely without rolling backward or forwards. Downhill-assist control helps maintain stability while going downhill so you can savor the fun safely. The 2015 Tacoma can also be fitted with sturdy skid plates so that the underbelly of your truck is always safe, no matter how much dirt you kick up.
The 2021 Chevy Silverado 1500
The Chevy Silverado has easily become one of the most recognizable trucks over the years. This truck is all about offering a well-balanced truck driving experience, giving just as much in the way of practicality as it does in power. The 2021 Chevy Silverado 1500 is the perfect truck for drivers looking for an everyday vehicle that can stay on its toes while offering fantastic adventure and work capability.
The 2021 Silverado 1500 features five engine options, including a 2.7-liter 4-cylinder, a 4.3-liter V6, a 5.3-liter V8, a 6.2-liter V8, and a 3.0-liter diesel option. Whether you just need the standard 4.3-liter engine or need to harness the 420 hp and 460 lb-ft of torque from the 6.2-liter engine, you're sure to find a pre-owned model perfectly configured to the strength you need.
With its 2.7-liver 4-cylinder engine, the 2021 Silverado can achieve 20 MPG in cities and 23 MPG on highways, making it one of the most efficient high-powered pickup trucks out there. Opting for the diesel engine pushes the efficiency further, getting you 23 MPG in the city and 33 MPG on the highway.
The 2021 Silverado also harbors a litany of safety technologies, including automatic emergency braking, front pedestrian braking, lane keep assist with lane departure warning, and more. Additionally, various cameras can be added to the 2021 Silverado 1500 so that you can always keep tabs on your surroundings, such as a trailer camera and a cargo bed view camera.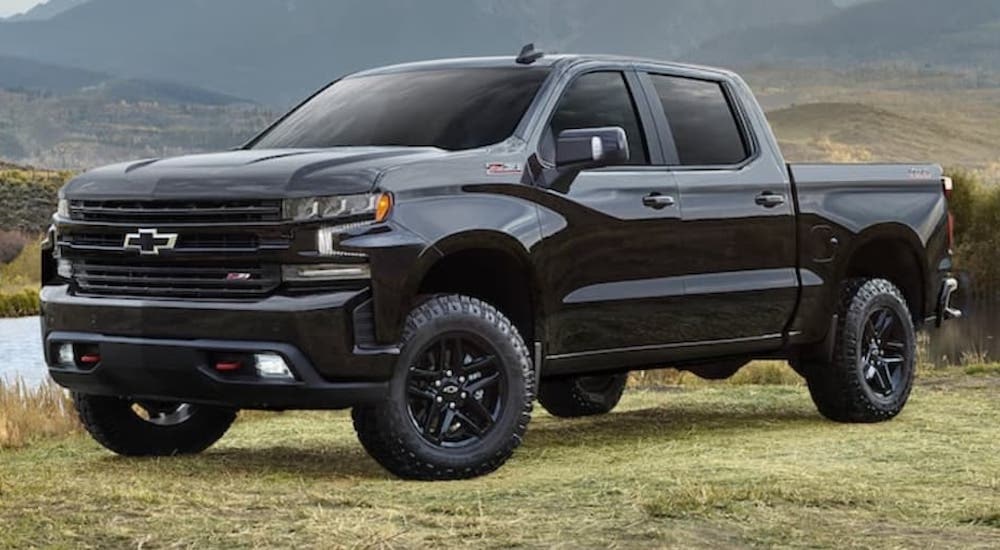 Our Dealerships Will Help You Find a Great Pre-Owned Truck
With so many incredible trucks out there to explore, sometimes the question isn't whether you should take home a new truck but which truck you should pick. At Faith's Automotive, we want to offer New England drivers the greatest selection of used vehicles possible so they can find exactly what they need to take on any task life throws at them. There are many fantastic brands to choose from in the automotive industry, which is why we don't limit our used lot to just one. You can experience this diversity at our Faith's Ford and Faith's Toyota locations.
Finding the right truck for you can be more difficult than it seems, and even more difficult to find a payment plan that works for you. At Faith's Automotive, we want to take any stress out of these processes by providing efficient and responsive service on all fronts. From the moment you walk through the doors of one of our dealerships, you'll be greeted by a sales representative eager to help you drive home happy.
Our finance teams will help you from there, taking every aspect of your situation into account to find the best possible financing rate. At Faith's Automotive, we want to ensure drivers throughout Vermont are armed with the performance and efficiency they need to finish any task they set their minds to. We're eager to show you our selection of high-quality trucks and help you tear off on your next adventure. Visit Faith's Ford or Faith's Toyota today and let our knowledgeable teams help you find that perfect pre-owned truck.
Back to Parent Page