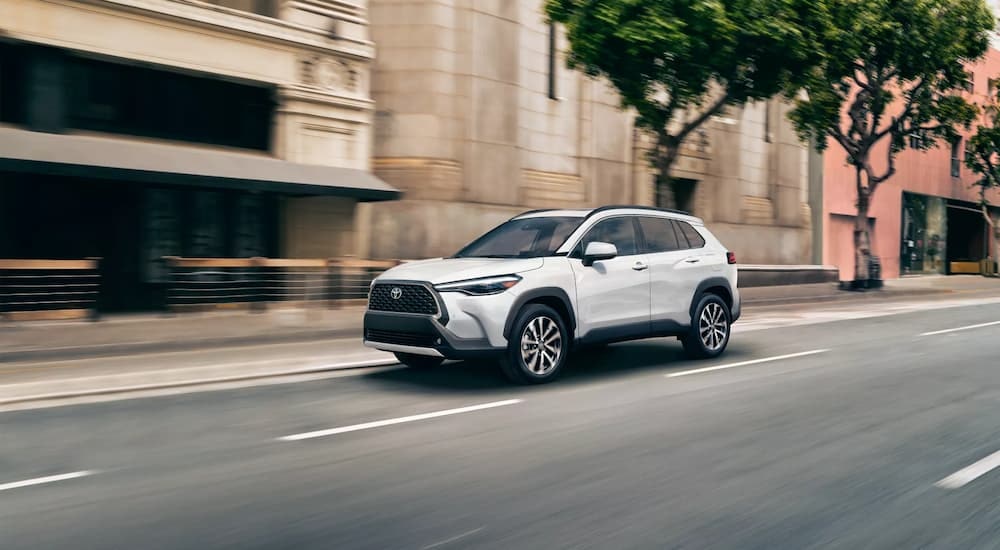 Popular Award-Winning Toyota SUVs You Should Check Out
Toyota has a multifaceted selection of SUVs that can appeal to a range of drivers. For years, Toyota has led the way in innovation and design while keeping their vehicles firmly in an affordable price range. Some drivers think mostly of the manufacturer's sedans, like the Corolla or Prius, when considering the brand; however, Toyota is also the manufacturer of many rugged and reliable SUVs. They make models of every size, with a variety of towing capacities, gas and hybrid options, battery and plug-in models, and in tons of price ranges. If you're looking for a Toyota dealer in Westminster, VT, familiar with all the popular Toyota SUVs on the market, look no further than Faith's Toyota. They are highly educated on every Toyota SUV, including different generations and trims.
The sales team at Faith's Toyota is incredibly skilled at knowing which Toyota SUV to pair with which customer. Explain to them the features you're looking for in an SUV, and they'll be sure to show you a variety of worthy options and gladly take you on a few test drives. We're confident you will be impressed with what our crew over at Faith's Toyota has to offer in terms of inventory, prices, and service. Visit them today and start exploring some of these popular Toyota SUVs.
The 2023 Corolla Cross Hybrid
Even though the Corolla Cross Hybrid hasn't been out for long, it's already snagged some notable awards. In 2022, it won a Top Safety Pick+ distinction from the Insurance Institute for Highway Safety (IIHS). It also won Kelley Blue Book's 5-year Cost to Own Award, making it one of the best options for those looking to pay off their car loan quickly. Plus, it won a Kelley Blue Book Best Resale Value in 2022.
The Corolla Cross Hybrid is something of a superstar in the Toyota family right now. It's a hybrid subcompact SUV that guarantees incredible value and boasts super nimble handling that almost makes the steering wheel feel one with the driver and includes a really energetic powertrain. Its fuel efficiency is also a big selling point for many drivers today looking for ways to cut costs while gas prices keep rising. In all-wheel drive (which is standard for the hybrid), the Corolla Cross Hybrid gets an estimated 42 MPG combined, so it's a great option if you want long stretches of cruising uninterrupted by gas stops.
The interior is spacious and comfortable, with several available features like wireless smartphone charging, a JBL Premium Audio System, and rear-seat USB charging ports. Plus, it has a generous array of standard driver-assist features, including Dynamic Radar Cruise Control to reduce driver fatigue on long trips, Lane Departure Alert with Steering Assist to help avoid collisions, and a Pre-Collision System with Pedestrian Detection. All in all, if you want a sporty subcompact hybrid SUV at a low price, we definitely recommend checking out the Corolla Cross Hybrid.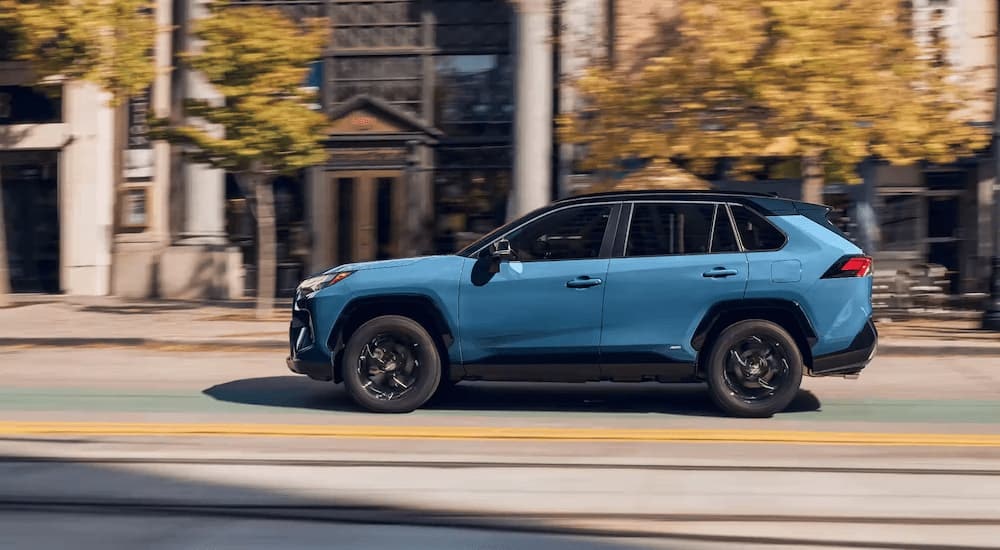 The 2023 Toyota RAV4
The RAV4 won the National Highway Traffic Safety Administration (NHTSA) 5-star overall safety rating in 2022, thanks to its intelligent safety features. It also won Kelley Blue Book's Best Buy Award in 2022 because of its all-around great round-up of features for a low MSRP. It even won Kelley Blue Book's 2022 Best Resale Value Award, so you know a RAV4 is a good investment.
The RAV4 has been a popular SUV in the Toyota family since it debuted in 1994. It's a compact SUV with some impressive capabilities, including a 3,500-lb towing capacity and 1,240-lb payload. Many drivers like it because it's so easy to maneuver, making it ideal for getting into tight parking spots and zipping around city streets, but it is still certainly for those camping trips in the wilderness.
Even though there is a hybrid and plug-in hybrid electric model, the regular gas engine RAV4 still has good fuel economy, offering up to 27 MPG in the city and 35 MPG on the highway. It is the most affordable of the RAV4 options to date, so it remains a highly requested model. Plus, it has an awesome off-road trim with its TRD model. That will get you a specially tuned independent front suspension ready for rougher roads, as well as dynamic torque vectoring all-wheel drive and 18-inch flow-formed alloy wheels.
Whichever trim you get, you'll enjoy a nice 8.6 inches of ground clearance for a nice riding height, wireless smartphone compatibility for Androids and iPhones, and a beautifully laid-out driver information area. Additionally, it has the Toyota Safety Sense 2.5, with its comprehensive lineup of driver assist features. The RAV4 is something of a classic; it's a vehicle that some people repeatedly buy because its performance, fuel economy, technology, and comfort remain consistent through the generations.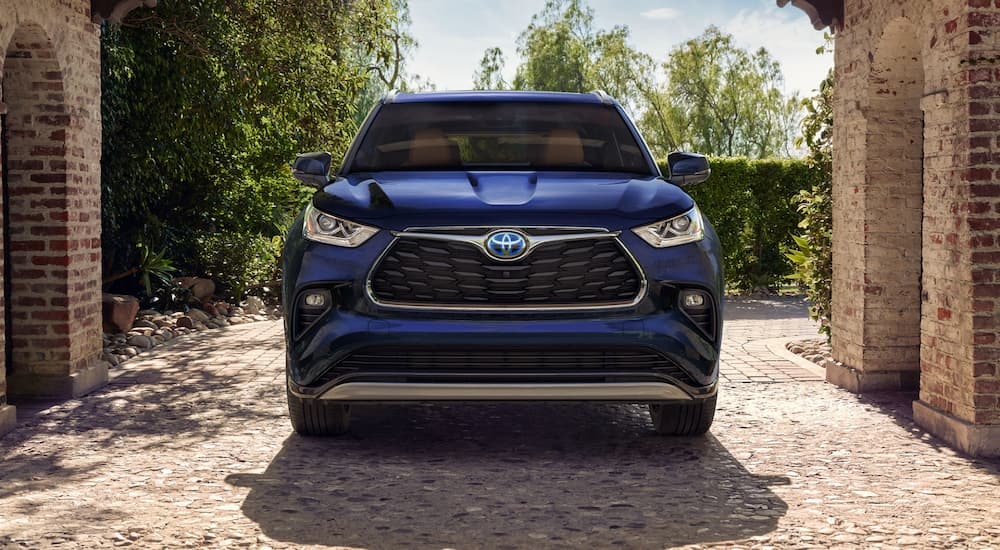 The 2023 Toyota Highlander
The Toyota Highlander also snagged an IIHS award as a Top Safety Pick in 2022, as well as an NHTSA 5-star overall safety rating award in 2022, and a Kelley Blue Book Best Resale Value award in 2022. The Highlander is Toyota's three-row SUV. It's comfortable, spacious, and drives smoothly. Plus, it's powerful, capable of towing up to 5,000 lbs. It's a great SUV for road trips, especially if you need to bring a small camper or RV with you.
The Highlander is decked out with features that make it a joy to be in for extended rides, like an available panoramic moonroof to let passengers take in the surrounding sights or even take in a nice breeze and available wireless phone charging to keep important devices powered up. It can seat eight, and its seats fold down to create extra cargo space of up to 84.3 cu.ft. when you need it.
It's also got plenty of comfort-boosting available features like heated and ventilated front seats and Wi-Fi to let passengers stream movies, shows, and more on the road. It's one of the best family-friendly vehicles in the Toyota lineup. Plus, the Highlander is also available in a hybrid model for those who want to spend less time making stops at the pump.
Test Drive One of These Great Toyota SUVs Today
Faith's Toyota has a team of experts who are excited to take you for a test drive in any of the SUVs we covered today, plus a host of others. As you can see, Toyota has an incredibly diverse and exciting selection of SUVs for many types of drivers and lifestyles. If you're after a large people hauler, they have what you're looking for, like the three-row Highlander, with its spacious interior, convenient tech features, and excellent towing capacity.
If you want something compact, nimble, and easy to handle but still powerful, check out the Corolla Cross Hybrid. Thanks to its hybrid powertrain, you can cut back on fuel consumption while still enjoying a really energetic behind-the-wheel driving experience. Plus, it's stylish and filled with excellent driver-assist features. Those looking for one of the most classic Toyota SUVs should check out the RAV4. It's been a staple of the Toyota family for decades, and for good reason. It's reliable, consistent, comfortable, and fun to drive. Whichever SUV you have your eye on, the team at Faith's Toyota is here to serve and help you pick out that perfect model. Come in today and let them show you everything the exciting Toyota SUV lineup has to offer.
Back to Parent Page