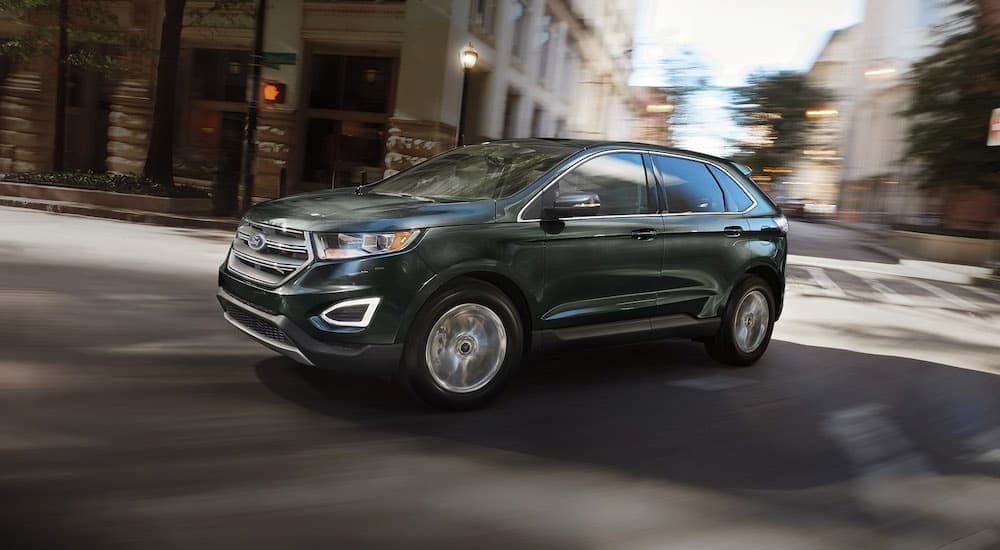 Should My Next Vehicle Be An SUV?
Whether you've had an SUV in the past or this is your first time considering a crossover or SUV model, there's a lot to like about these amazing vehicles. A pre-owned SUV, in particular, can be the perfect way to enjoy everything these models have to offer while also going easier on your budget. Choosing the right used SUV dealer makes a big difference in your overall shopping experience and is vital for having a great time and driving away in a vehicle you love, which is why we're here to help.
No matter what you're looking for, at Faith's Automotive, you'll find friendly and helpful people ready to assist you with everything you need. Our Faith's Ford and Faith's Toyota dealerships have an amazing selection of new and used SUVs for you to choose from. But perhaps we're getting ahead of ourselves; if you're still trying to decide on the right vehicle, then we're here to help with that too. Let's take a look at what an SUV or crossover model can do for you (plus the differences between the two), and you'll get a sense of what type of vehicle you should be looking for as you shop for your next ride.
SUV vs Crossover
Before we go any further, let's dig into some of the basics of SUVs because there are some important terms you should know while shopping. You've no doubt heard of SUVs and also heard people refer to the body style as crossovers, and sometimes they seem to be used interchangeably, but there's an important distinction between these two. Both SUVs and crossover models look quite similar in general: four doors (though there are a few two-door models out there) and a rear hatch or liftgate to give you access to a cargo area behind the back row of seats. At a glance, it makes sense why these two terms are often used synonymously.
The difference comes down to size and construction, specifically how the body and frame of the vehicle are manufactured and assembled. A traditional SUV is built like a truck with a body-on-frame design where the body and frame (or chassis) are two separate pieces attached to each other. Crossovers, on the other hand, use a unibody construction where the body and frame are a single piece manufactured together––this is the type of design that cars or sedans use. As a result, classic SUVs are generally larger models built like a truck, while crossover models are smaller and designed like a car. The body-on-frame design can give SUVs a rougher ride, but they're great for going off-road, while crossovers tend to be more comfortable on city streets.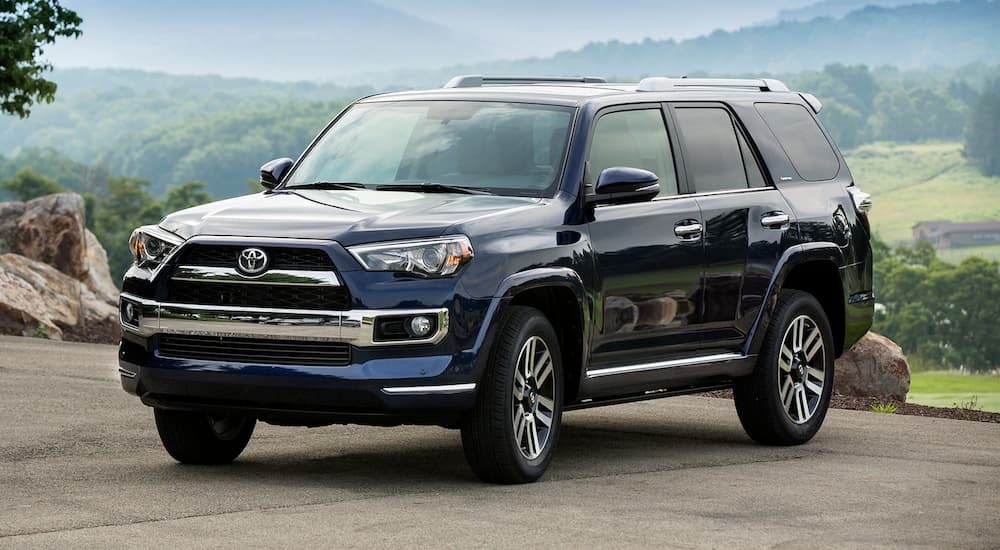 Different Size Classes
As you look at different SUV and crossover models, you'll typically see them labeled according to their class or size. Some of these terms are regulated by the government, at least when it comes to things like fuel economy, but advertising doesn't always use the categories in an official capacity. In other words, you'll see some terms used interchangeably with descriptors like "small" and "large," so it's worth having a good sense of what each one means. The following are the size classes you'll see in ascending order from smallest to largest:
Subcompact – These are the smallest models, and they're pretty much always crossovers, usually built on a platform shared by cars made by the same company. Popular subcompact crossovers include the Ford EcoSport and Toyota C-HR.
Compact – A bit larger than subcompact models, these are still quite small (some brands will call them "small" instead of compact) and have two rows of seating. Compact crossovers include the Toyota RAV4 and Ford Escape.
Midsize – As their name suggests, midsize models fit in between the smaller compact options and the larger full-size models. These are usually crossovers, but some traditional SUVs can also fall into this category, and you can find both two-row and three-row midsize models. Popular midsize SUVs include the Ford Edge and Toyota 4Runner.
Full-Size – The largest models, full-size SUVs are typically made with traditional body-on-frame designs and often share platforms with trucks like the Ford F-150. These are usually three-row models and include the Toyota Sequoia and Ford Expedition.
Across these four categories, you'll find a wide range of models with a variety of options. By knowing how big a vehicle you need, it becomes a lot easier to narrow down what you're looking at, especially when shopping for used SUVs, to find one that will work for you. Regardless of which type you choose, you'll find a ton of different benefits in crossovers and SUVs, particularly for living in Vermont and driving throughout New England.
Benefits of SUVs
Spacious Interiors
One of the main reasons SUVs and crossovers have taken over the auto industry is because of the impressive functionality they provide. A few decades ago, most people looking for a family vehicle would focus on a sedan, station wagon, or minivan, but there were downsides to each of these options. A great SUV gives you a spacious interior that's perfect for passengers and cargo alike, with a design that makes it easy to use. The rear liftgate lets you load or unload stuff simply and quickly, while the interior layout of an SUV is often easier to utilize for passengers than something like a minivan.
If you have a family, then the value and benefits of an SUV really can't be overstated. The key is to choose the right model, particularly in terms of size, for your family and needs, both in terms of passengers and cargo space. Look at how many rows of seating there are and any options; a full-size model might be available with six seats or up to eight, depending on configuration options. Then you can look at the cargo capacity inside one of these vehicles to ensure it has plenty of room for everything you want to take with you.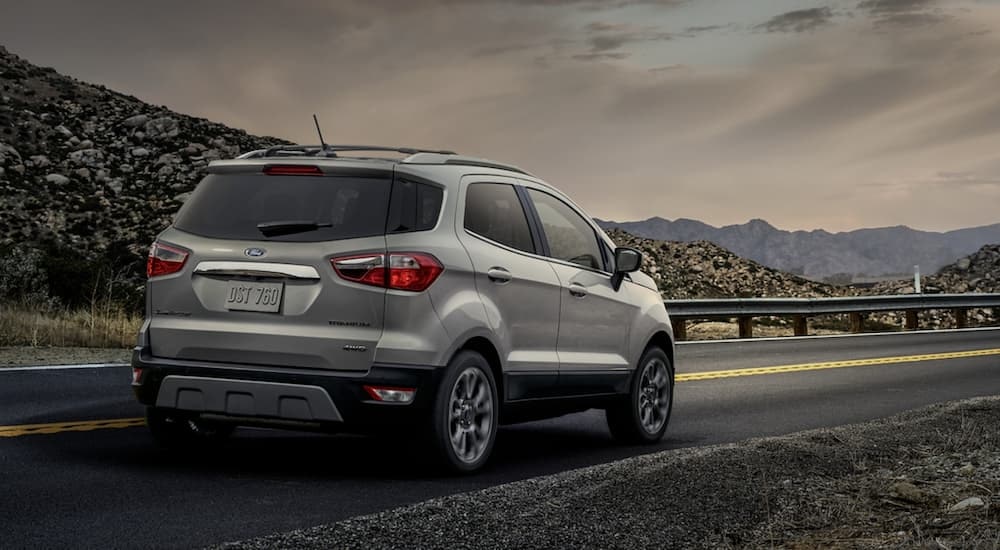 Rugged and Dependable
One of the other major benefits of an SUV is how well it can handle things like rough weather and unpredictable situations. Midsize and full-size SUVs, with four-wheel drive in particular, can be a great option for dealing with snow, slush, and other adverse road conditions. A lot of these models are designed with some off-road functionality. Vehicles like the Ford Bronco and Bronco Sport are particularly well-suited for leaving civilization behind and hitting the trail for a few hours (or days).
These vehicles are perfect for enjoying everything around us in Vermont and throughout the surrounding area. Whether you want something for getting around town, going on long road trips, heading to your favorite campground, or everything in between, a great SUV can handle whatever you need. This is why so many people have switched to crossover and SUV models and why so few go back to sedans or other vehicles.
Choosing the Right SUV
As you can see, you have a lot of options available to you when shopping for a new or used SUV, and making the right decision is very important. That becomes a lot easier with great people by your side, which is why we've worked so hard to build teams of amazing folks at Faith's Ford and Faith's Toyota. No matter what you're looking for in your next ride, they're ready to listen to you, answer all of your questions, and make sure you get everything you need. From a sporty crossover with great fuel economy for getting around town to large and powerful SUVs designed to leave paved roads behind, they'll help you find it. Find your next SUV at Faith's Automotive and get a vehicle that will let you do everything you need.
Back to Parent Page