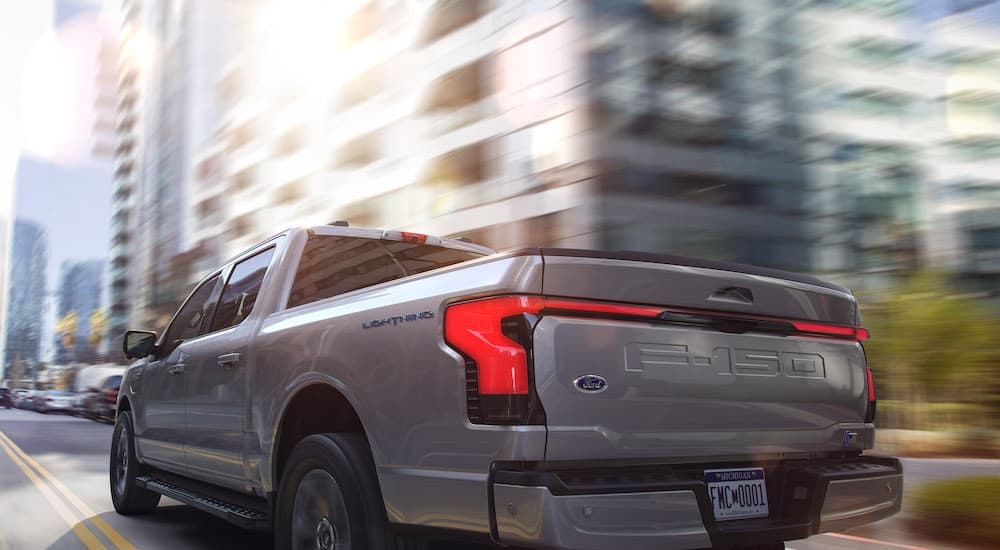 The Benefits of the 2023 F-150 Lightning's Electric Capabilities
Shopping for a new full-size truck? Maybe you're just interested in learning about an alternative-fuel full-size pickup? Either way, there are many ways to appreciate the 2023 Ford F-150 Lightning if you're curious about a light-duty pickup truck that bypasses the traditional internal combustion engine design. This article will cover some of the benefits of owning an electric pickup truck and how you can get the most out of it without having to spend a dime on gas or diesel all while you own it.
It's no wonder why the 2023 Ford F-150 Lightning has become so popular and why so many people are ordering one to own it for themselves. But whether you're looking for electric vehicles for sale or just curious about all the buzz, you have questions about the capabilities and functionality of the F-150 Lightning, and hopefully, by the end of this article, some of those questions and concerns will be addressed. So, let's dive right in and outline some of the benefits of the 2023 F-150 Lightning and what you can look forward to from the all-electric light-duty pickup.
Multiple Motors, No Combustion Engine
The benefit of an electric vehicle is that if you don't like the idea of starting up the vehicle the traditional way or having to warm the vehicle up to get it running, you just turn on an electric truck and go. There are no mechanical parts you have to worry about functioning correctly, which can affect how well the vehicle runs, such as worrying about spark plugs, exhaust leaks, gaskets, mufflers, or alternators going bad. With an electric truck like the Lightning, you never have to worry about traditional engine issues.
With the 2023 F-150 Lightning, you have two different powertrain configurations based on the battery sizes. This includes the 98 kWh standard range battery pack and the 131 kWh battery pack. Both powertrain configurations are of the dual electric motor variety, with an electric motor on the front axle and an electric motor on the rear axle. You get all-wheel drive on both powertrain iterations.
The standard range 98 kWh battery pack nets you 452 hp and 775 lb-ft of torque, which gives you a lot of power for the basic setup. The extended range 131 kWh dual motor configuration nets 580 hp and 775 lb-ft of torque. So, for those of you who want a really powerful pickup with great performance capabilities, the F-150 Lightning is capable of that. And the best part about it is that with the power scaling, you don't have to worry about a traditional combustion engine's maintenance or fuel costs.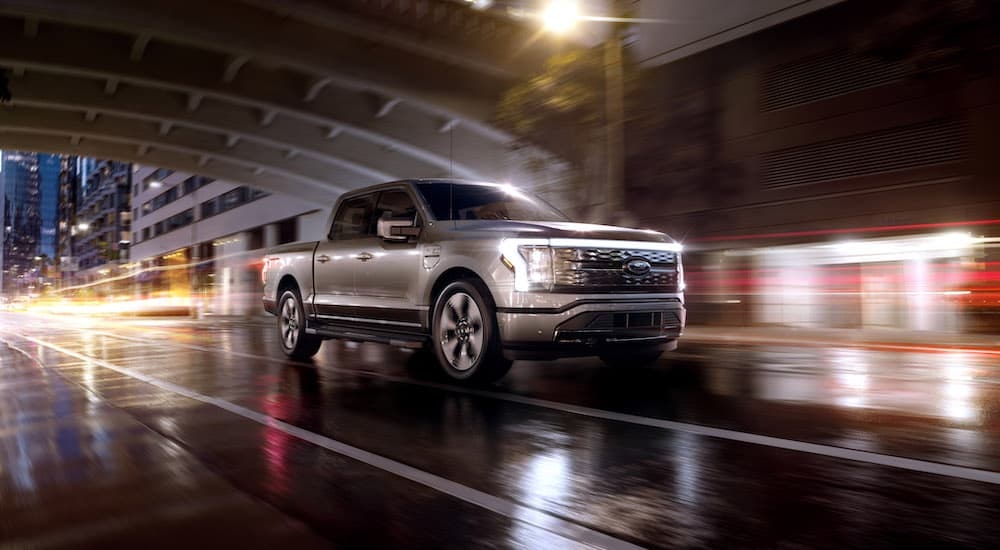 Maximum Range Without a Drop of Gas
When it comes to traditional combustion engines, you have to keep them filled up to get the most out of the range, and it can be extremely costly. With an electric truck, you don't have to worry about constantly refilling the tank with highly expensive gas, nor do you have to worry about rising gas prices or price fluctuations. With an electric truck, you can keep your vehicle charged through public charge stations or home chargers, which completely removes any need to rely on gas, thanks to being powered by the battery packs.
The battery sizes for the F-150 Lightning also give different total range capabilities for the truck, depending on what you're looking for out of the F-150 Lightning. The standard range battery pack with 98 kWh nets you up to 240 miles on a total full charge. The extended-range battery pack, at 131 kWh, offers up to 320 miles of total range on a full charge. Utilizing the three different charging capabilities for the F-150 Lightning means you can charge it up at home, at a charge station, or at a DC Fast Charge outlet.
The F-150 Lightning is also capable of utilizing the mobile power cord with a 240-volt connector that allows you to charge from 15% up to 100% within 23 hours. Alternatively, you can use a 120-volt connector with an AC power outlet in a basic three-pronged outlet. Another awesome feature of the F-150 Lightning is utilizing its battery packs as a mobile power generator, providing up to three full days worth of power to keep your home powered up even if the power is out thanks to the 9.2 kilowatts of power output.
Towing Capabilities for an Electric F-150
The 2023 F-150 Lightning is not one of those trucks that's just all shine and flash with no functionality. Some electric vehicles have limited utility, but the F-150 Lightning is not one of those trucks; it's actually designed to be a highly functional and highly practical electric truck. This is accomplished through its design that's aimed at enabling you to tow and trailer thousands of pounds using the truck just as you would a traditional combustion-based F-150.
The all-electric F-150 opens up the towing capabilities for truck drivers in two different ways, with two different powertrain options. The 98 kWh standard range configuration actually enables you to tow up to 7,700 lbs worth of cargo. It also enables you to carry a max payload of 2,235 lbs, which gives you just over a ton of cargo capacity in the rear bed. That's not to mention the additional 14.1 cu.ft. of additional cargo volume available in the frunk (the front trunk).
The second powertrain configuration, consisting of the extended range 131 kWh battery pack, gives you even more towing capacity. It's more in line with what many light-duty truck shoppers might be interested in when shopping for an electric vehicle for sale like the F-150 Lightning, as it enables you to tow up to 10,000 lbs worth of cargo. The 131 kWh battery pack gives you a maximum payload capacity of up to 1,952 lbs of cargo capacity. So you can use the F-150 Lightning very much in the same way as you normally would a combustion-based truck but without the limitations of the mechanical maintenance and gas-guzzling aspects of a traditional pickup.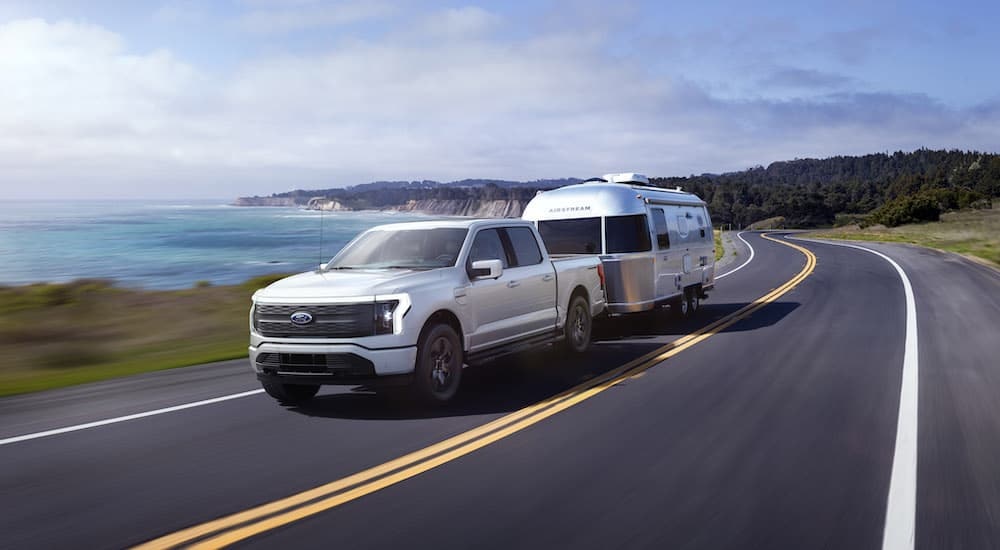 A Quiet Ride No Matter Where You Go
Another big benefit of going all electric is that if noise is an issue for you, you'll be pleased to know that any engine vibrations or noises won't be a problem while driving the F-150 Lightning. Because electric vehicles don't have noisy mechanical parts like an internal combustion engine, it means you don't get the same level of noise or vibrations that you would with a truck that has a traditional gas or diesel-powered engine. This is great for those looking for a quiet, smooth ride from their pickup truck. If quiet rides are important parts of your travel arrangements, then an electric truck makes for a very quiet ride in addition to all the other practical features it brings.
Is an Electric F-150 Right for You?
It's easy to see the benefits of a 2023 F-150 Lightning when you think about what you can do with it and what you can accomplish with it, but that doesn't necessarily translate into the truck being right for you. It's not just a matter of costs and expenses but also whether or not the truck is viable when it comes to charging. While you might be able to set up a charge station in your own home, there is also a worry about mobile charge stations: are there enough in your neck of the woods? Can you easily access them along your regular travel routes? Is it convenient to actually charge while on the go? Well, that's one of the benefits of talking to the technicians and sales staff at Faith's Ford.
You can learn a lot about the Ford F-150 Lightning, the charging capabilities, the route planners made available through the Ford SYNC infotainment navigation systems, and being able to make the most of the at-home charging solutions available for the F-150 Lightning by talking with the Faith's Ford team about all the ins and outs of owning an F-150 Lightning. If you have questions about the F-150 Lightning and some of the additional benefits of an all-electric truck, definitely use the available website contact information to chat or contact them so they can help answer any questions you might have about this popular all-electric pickup.
Back to Parent Page