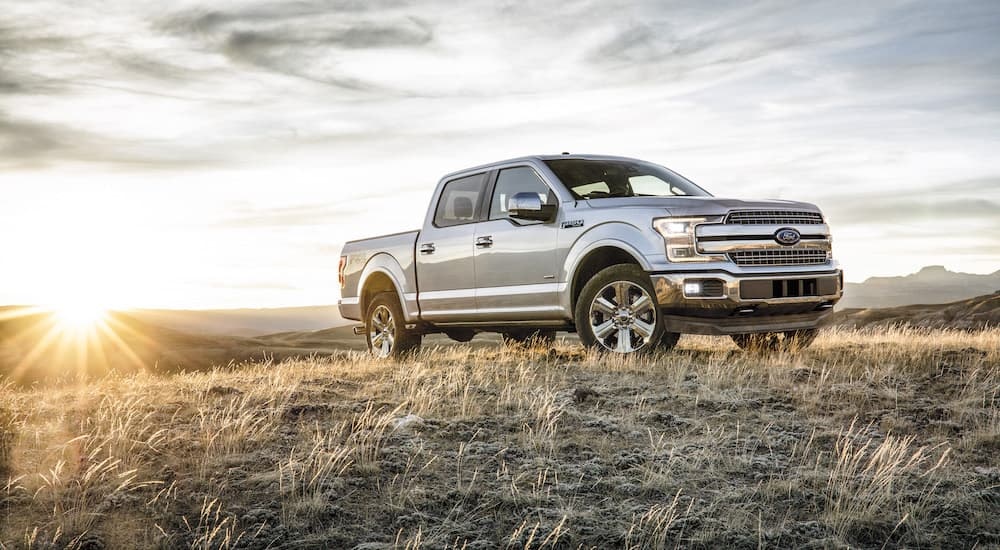 The Ford F-150 Was Made for Keene
New Hampshire has some of the most amazing and gorgeous places to live, visit, and enjoy, providing countless opportunities to go out and get the most from this remarkable area. Although we are located over in Westminster, VT, we still love to head east and enjoy the spectacular scenery and stunning nature that New Hampshire affords. Having the right vehicle can make it a lot easier to take advantage of everything that places like Peterborough, Keene, and Newport have to offer.
Whether you look forward to hiking every summer, prefer to spend a day on Otter Brook Lake, or you love camping in Monadnock State Park, you need the right vehicle to take you where you want to go. To really get the most from this area, looking for a Ford F-150 for sale near Keene, NH can help expand your options and make it a lot easier to enjoy everything the region has to offer. There are many great reasons that the F-150 has been the most popular truck in America for more than 40 years, and many of these reasons are also ideal for driving around Keene. Let's take a look at some of the amazing features of the Ford F-150 with a specific eye toward how these things can help you do your job and enjoy your free time.
Incredible Power and Engineering
Every truck company likes to brag about the power and performance of their trucks. While some of that is advertising bravado, much of it really makes a difference. Trucks are large and heavy machines, so you need a powerful engine in them to ensure you get a responsive drive that feels good when you're behind the wheel. The F-150 has numerous engines available including a standard 290 hp 3.3L V6 and an available 400 hp 3.5L EcoBoost V6, along with an incredible 3.5L Full Hybrid engine that delivers 430 hp and 570 lb-ft of torque. That's all well and good, but why should you care?
All of that power makes it a lot easier for you to go about your daily routine, get to work on time, and get the most from your days off. With so many mountains and hills around Keene, you can spend a lot of time going uphill, especially if you want to spend the day skiing at Granite Gorge on Pinnacle Mountain. Torque is incredibly important for pushing a heavy truck uphill and feeling confident that you can tackle any sort of incline you come across. It's also vital for towing, but we'll get to that in a moment.
When we talk about incredible engineering, we don't just mean the engine, however, since the F-150 is also designed for control and precision on and off the road. You can get Four-Wheel Drive (4×4) on the F-150 in order to send power to all four wheels and ensure you maintain traction no matter what conditions you're driving in. Whether you're trying to get going in some snow, need to navigate a lot of dirt roads each day, or enjoy leaving civilization behind and going off-road on the weekend, a 4×4 F-150 is the perfect choice. It's only been 20 years since the last time Keene saw more than 110 inches of snow. Having a truck you can rely on can be crucial for tackling the winter, no matter what it throws at you.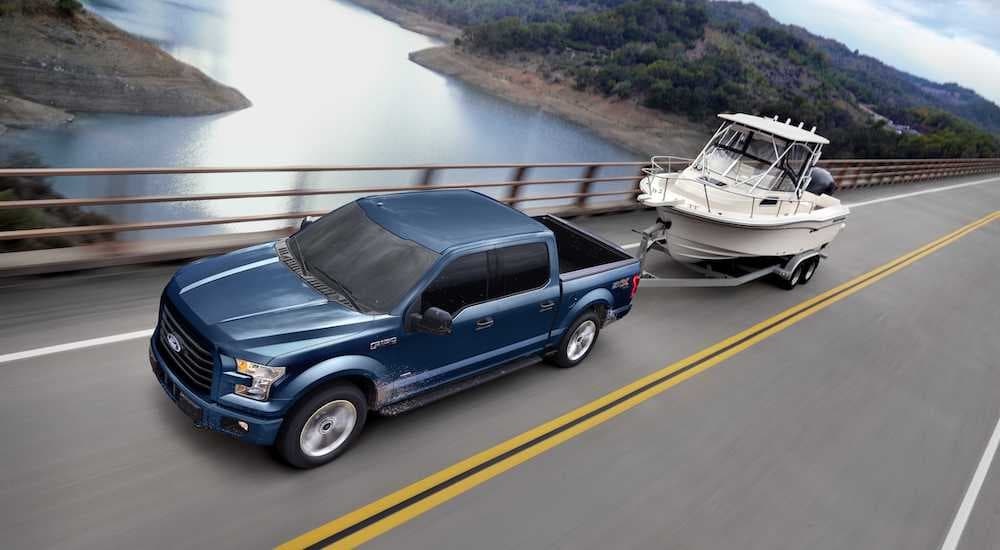 Robust Towing Capability
Towing capacity, along with payload rating, is another one of those things that can seem like just a bragging point for a truck manufacturer. But much like engine performance, it really does matter and it can make a big difference for you as you go about your life. Let's say you have a kid who just graduated from high school, and they're getting ready to move into a dorm at Keene State College. Having a truck that you can load up with their stuff to help them move can make your life a lot easier—not to mention being able to fill a trailer in a few years when they move into their first apartment and need help again.
Even when it comes to enjoying your free time and getting the most from your day, the towing capacity of the F-150 can really come in handy. The Ford F-150 can tow up to 14,000 lbs behind it, which is perfect if you enjoy the great outdoors. You can easily hook up a trailer with a boat, or hitch a camper behind you, then set out to get the most from a day on Otter Brook Lake or head our way to do some camping in Green Mountain National Forest. No matter what kinds of activities you prefer, the power of the F-150 makes it a lot easier to enjoy.
Luxurious Interior Options
Thinking about trucks 20 or 30 years ago, they were often rather barebones inside and felt utilitarian rather than comfortable. Modern trucks are a far cry from those kinds of pickups, and the current Ford F-150 has one of the most sophisticated and luxurious interiors available anywhere. What could be better after a day of skiing on Pinnacle Mountain than getting into your truck and feeling the heated seats warm you all over? Fantastic climate control options, a heated steering wheel, and comfortable seating all go along with that to help make your day complete.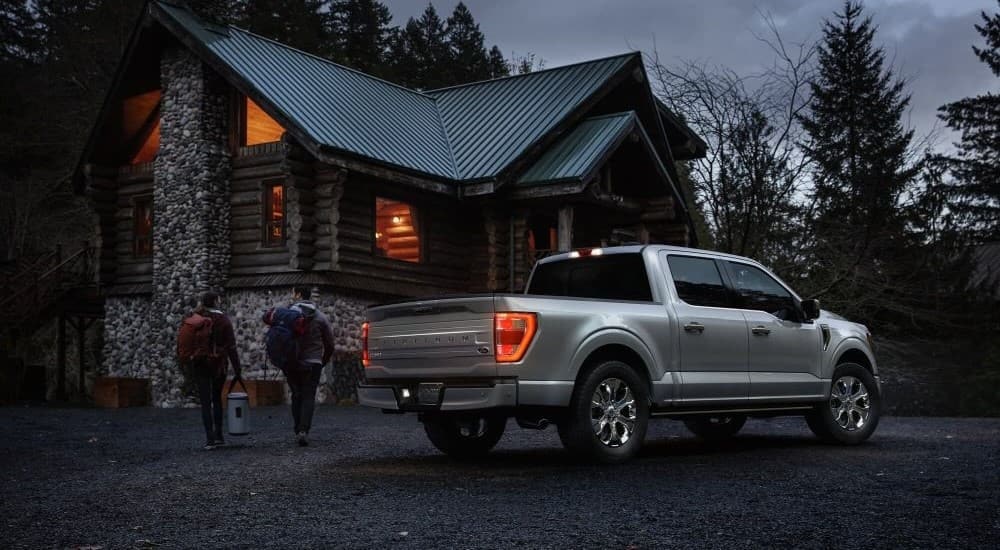 Fantastic Safety Features
No matter what you are into—in terms of work, play, and everything in between—the most important thing is that you get home safely at the end of the day. To help make sure that you and your loved ones are protected, there's the available Ford Co-Pilot360 package of safety features for the F-150. Standard safety features on the F-150 include Pre-Collision Assist with Automatic Emergency Braking, which can detect a potential crash and help you avoid it, along with Post-Collision Braking in case the unthinkable should happen.
If you choose additional features available for the F-150, then you can get things like Rain-Sensing Windshield Wipers that come on automatically, a Lane-Keeping System to help you avoid drifting out of your lane, and a Reverse Sensing System that detects and warns you about obstacles behind you while backing up. While basic Cruise Control is standard on all F-150 models, you can also get Intelligent Adaptive Cruise Control, which will slow your truck down automatically as traffic around you slows, and then accelerate again when others speed up. All of this means you can stay safer whether you are simply getting around town, heading north to spend the day in Claremont, or going on a longer road trip.
Designed for Work and Play
It's easy to imagine that the Ford F-150 is a successful work truck because it's such an essential vehicle for many people to get their jobs done. The truth, however, is that it works just as well for helping a carpenter get to a job site, a landscaper haul some trees to a customer's house, and to take you to your favorite campground for the weekend. No matter what you enjoy doing for fun, the F-150 is a fantastic choice for being able to work hard all week and still get the most from your time off. If you're ready to see everything the F-150 can do for you, then you should come visit us at Faith's Ford in Westminster to see it for yourself.
Back to Parent Page