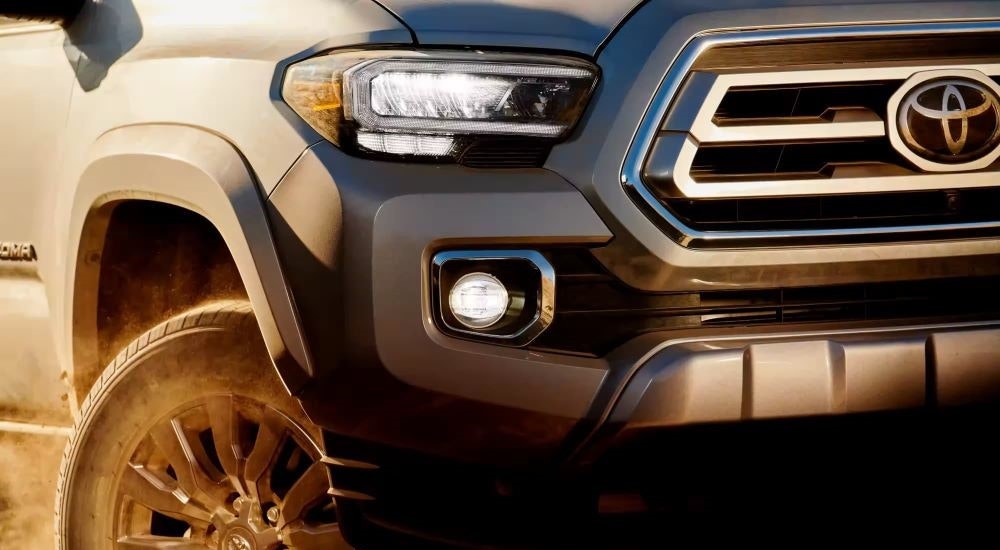 The Toyota Tacoma is Practically Built For New Hampshire Drivers
New Hampshire is one of the best states in the country; not only is living free a large part of their motto, but there's natural beauty in New Hampshire you'd be hard-pressed to find elsewhere. New Hampshire is a unique place, but also one where you may face cold winters, rocky trails, and other variables from living in New England. Few states call for owning a pickup truck the same way New Hampshire does––driving a truck can and will make your life far easier. If you're looking for a Toyota Tacoma for sale near Keene, NH, then Faith's Toyota will help you choose the perfect model. Before you visit, though, let's discuss some of the Tacoma's best features for your adventures around New Hampshire.


The Best Part About Tacoma Performance

When it comes to performance, the Tacoma has some excellent features not found on most other pickup trucks. We believe the most notable feature is an available manual transmission, as it makes driving the Tacoma more hands-on and fun, especially if you are going off-road. The Toyota Tacoma is available with 4WD, which can work wonders for drivers in New Hampshire. As you may know, snowy conditions make driving a RWD in our hilly, mountainous state a frustrating endeavor. 4WD also works great in the rain, on icy roads, and it also means you can take your Tacoma off-roading. This is also true when combining a 4WD Tacoma with a manual transmission.

There are two powertrains for the 2023 Tacoma, and with the two, your options are either better fuel efficiency or more performance—towing included. However, the base model 2023 Tacoma is a fantastic way for newcomer truck drivers to step into the world of pickups, as you can opt for either a 2.7L I-4 or a 3.5L V6 engine.

Fuel efficiency is crucial for anybody living in New England—New Hampshire included. Driving from Keene to Manchester for a night out or to Boston to catch a Celtics, Bruins, or Red Sox game can prove costly if you don't have a fuel-efficient powertrain, like those found in the 2023 Tacoma. With the rear-wheel drivetrain and the 2.7L I-4 engine, the Tacoma has EPA-estimated ratings of 20 MPG in the city and 23 MPG on the highway. Pairing the I-4 engine with 4WD reveals a surprisingly similar amount of fuel efficiency, with EPA-estimated ratings of 19 MPG in the city and 22 MPG on the highway. With this engine, you'll have a maximum towing capacity of about 3,500 lbs.

Returning pickup truck drivers either looking to side-grade or upgrade their current truck—or even those newcomers willing to spend extra—can look into getting a 2023 Tacoma that comes with a 3.5L V6 engine, which is the powertrain that allows for the manual transmission we mentioned earlier. This powertrain isn't available with RWD and is only paired with 4WD—perhaps the ideal powertrain for drivers living in New Hampshire.

The 3.5L V6 engine outputs 278 hp and 265 lb-ft of torque, which is about 75% and 47% more horsepower and torque than the 159 hp and 180 lb-ft of torque of the 2.7L engine. The difference between towing capacities can sway the decision on which powertrain you buy because if you're looking for a cost-effective pickup truck, the Tacoma 2.4L is a perfect choice. Those who spend extra for the V6 engine will increase the maximum towing capacity of the Tacoma to 6,800 lbs, which is nearly twice as much as the base engine.

Like the I-4 engine, the V6 is recommendable to New Hampshire drivers seeking better-than-average fuel efficiency. With the V6 engine and its standard automatic transmission, you'll have EPA-estimated ratings of 18 MPG in the city and 22 MPG on the highway. Are you the type of driver to opt for the manual transmission? No problem, you'll still get excellent ratings: 17 MPG in the city and 21 MPG on the highway.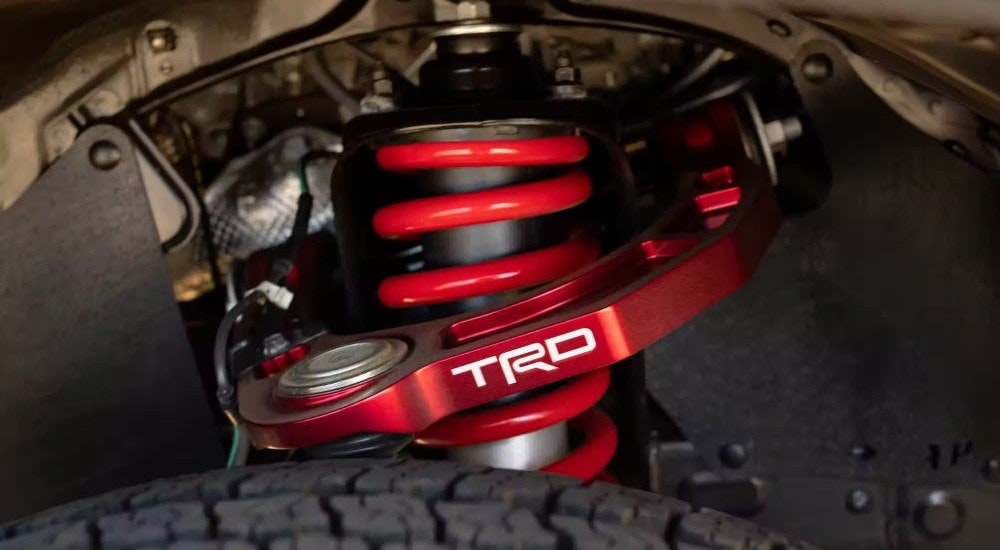 The Perfect Midsize Truck for Adventure

Adventure is a virtue with the Toyota Tacoma. There's capable, and then there's Toyota. The Toyota Tacoma is one of the most well-suited pickup trucks for off-roading, camping, and general adventure. An off-road powerhouse needs the right equipment. Otherwise, people won't take it seriously. Toyota knows off-roading, and the Tacoma TRD Pro is the best way to master the trail.

The Toyota Tacoma TRD Pro has all-terrain tires to cradle the harshest road conditions, and a 1.5-inch front lift with a 0.5-inch rear lift suspension keeps your Tacoma rock crawling with the best of them. Speaking of rock crawling, the Tacoma TRD Pro can come equipped with Crawl Control and a Multi-Terrain Monitor, so rock trails are far easier to maneuver thanks to cameras located around your truck. Combined with electronically locking rear differentials, Bilstein shocks, and internal TRD-tuned Fox shocks within an aluminum housing 2.5 inches thick, the Tacoma TRD is an off-roading dream. Another common off-roading act is climbing hills, so Toyota has implemented Hill Start Assist Control. With Hill Start Assist Control, your truck will stay put as you alternate between pedals, so you won't have to worry about rolling back down the hill––a common cause of issues on the trail.

We already mentioned the Multi-Terrain Monitor that gives you a view of the trail surrounding your vehicle, but it's the Multi-Terrain Select feature that makes a difference you can feel. New Hampshire is a state where you may drive over a handful of terrain in one day––many of these roads aren't like the others. With Multi-Terrain Select, your Tacoma TRD has multiple options to be activated on five types of terrain, all available at the turn of a dial. The five modes will all be helpful to you in New Hampshire, as options like dirt, rock crawling, sand, and mud are all present and accounted for.


Safety That Travels With You

The Toyota Tacoma comes standard with Toyota Safety Sense. Toyota Safety Sense is an in-depth safety and driver assist suite that fills your Tacoma with intelligent and adaptive features. If you live in New Hampshire, you might be used to long roads with lush foliage on either side with towering trees and not a store in sight for miles. Because of this, you might not need advanced safety features every day designed for the freeway, like Dynamic Radar Cruise Control. When you drive down to Massachusetts and travel on the Mass Pike to get to Boston, the features in Toyota Safety Sense are incredibly helpful to have.

Two features included with Toyota Safety Sense are Lane Departure Alert and Toyota's patented Pre-Collision System with Pedestrian Detection. These features are the ones that are always watching out for your well-being while your car is moving, and even in small New Hampshire towns, these features are always great to have.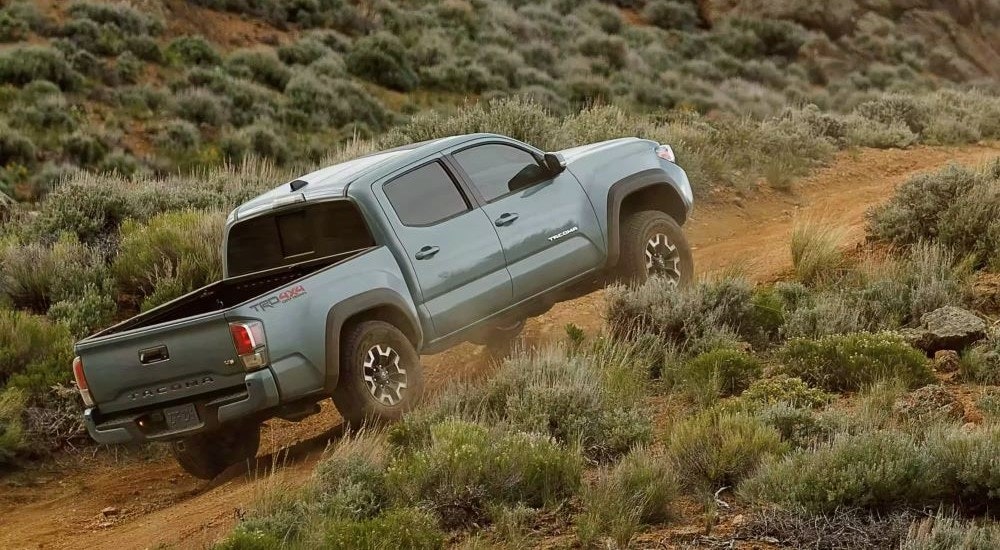 Let the Tacoma Set Your Path

Many people don't realize how adventure-starved they are until they get a vehicle that suits their lifestyle. The Tacoma is a truck that's equipped to handle any situation you throw at it. Those from New Hampshire know that driving here can take great skill to those who aren't used to the East Coast, especially in the Winter months. A pickup truck like the Tacoma will make easy work of the snow and the constant New England road work.

The Tacoma is a fantastic vehicle with a world of capabilities, and you've seen the Tacoma on the road, but have you seen the inside of one? Have you driven one? There's plenty to learn about a truck as beastly as the Tacoma, so what are you waiting for? Check them out today!
Back to Parent Page