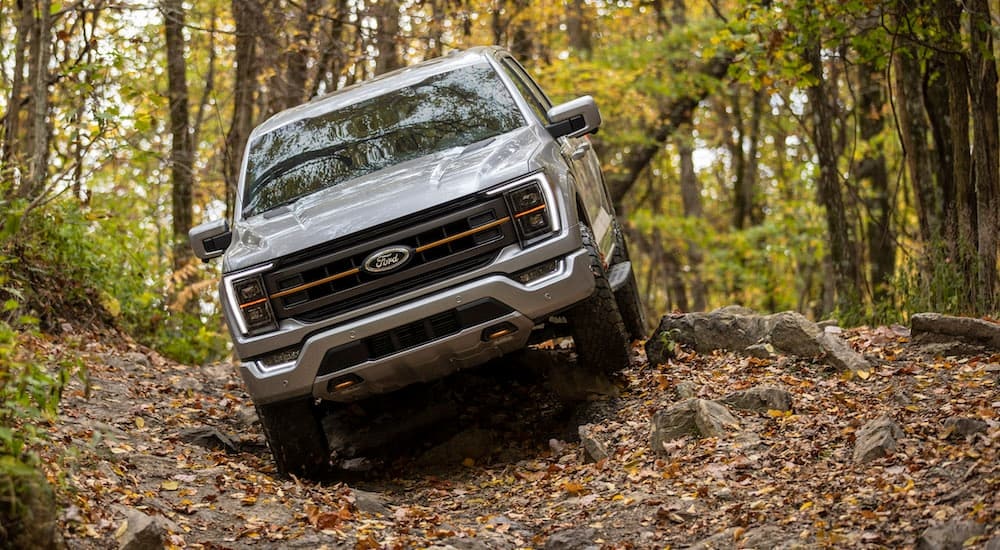 The Ultimate Guide to Used Ford Trucks
Shopping for a truck means that you have your work cut out for you when it comes to finding the best truck out of the bunch. From Chevy to Ram to Ford, Honda, Toyota, and Nissan, top-notch trucks in these lineups deserve recognition; however, Ford always stands out from the rest, especially with its slew of skilled pickup trucks of all sizes. At Faith's Automotive, we want to help you find the best truck for any task you have on your agenda, and if you're looking to save money while also taking advantage of all the features you need, buying used is highly advised. When searching for a used Ford dealer to partner with, we recommend visiting the team at Faith's Ford, where they will show you a lineup of used Ford trucks that will impress you beyond belief.
Why a Ford Truck?
One of the main reasons drivers gravitate toward Ford is that the name has been a staple in the industry since its inception in 1903. For over a century, Ford has been revolutionizing the way we travel, and when it comes to trucks, its line of tough and capable models won't disappoint. From the F-150, which has been America's best-selling pickup for 46 years and counting, to the durable Super Duty lineup, Ford trucks won't back down when there's a challenge. They are built to last, tackle the tough jobs, and are armed with features that place them ahead of the game, whether they're working on the job site, cruising down the interstate, or bounding down the dusty trails.
Ford has equipped its slew of trucks with advanced features to make any task easier, including onboard scales to expertly measure the contents of your haul, semi-autonomous driving capabilities to provide an extra hand on the road, and many more exciting features designed to improve the drive. Ford is built upon dependability, offering its loyal following to some of the most impactful trucks that have ever graced the pavement. When you want to be ultimately satisfied with your chosen truck, you'll find what you're looking for with Ford.
Best Used Ford Trucks to Buy
So, which Ford trucks tend to outperform the competition? There are plenty in all sizes, which makes Ford's inventory so versatile and accommodating for drivers everywhere. Whether you're searching for a top-level adventure mate or a home improvement project assistant, there's a Ford truck out there to cater to your every need. Here are a few of our favorites:
The Ford F-150
As America's #1 selling truck, the F-150 needs little introduction. This full-size truck is ready to add immense value to any travel situation, and if you're looking for a well-rounded truck, this model is it. When shopping used, it's always recommended to find a more recent used model, especially if you want to take advantage of state-of-the-art features, which is why models from 2021 deserve a closer look. Showcasing one of its latest revitalizations, 2021 F-150 models offer an abundance of powertrain options, including the debut of a hybrid powertrain, plus more premium cabin materials. You'll also find an onboard generator to help keep equipment powered up on the job site for increased productivity.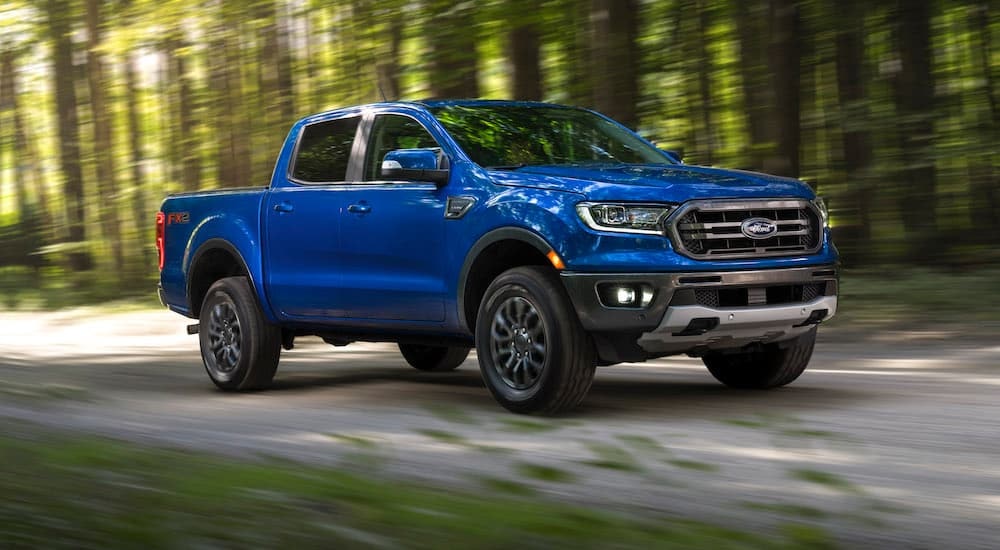 The Ford Ranger
Maybe you don't need a full-size model like the F-150. Instead, you're looking for a midsize option, making the crowd-favorite Ranger one of the best pickup trucks. Making its way back onto the scene for 2019, the Ranger nameplate has been quickly embraced by Ford fanatics nationwide, and if you want to make a serious statement on the road, we recommend models from 2022. This year showcases the Splash package, which brings back its 90s attitude with orange and black styling, 18-inch wheels, orange accents inside, and more radical elements. When you want a truck capable of towing like a pro while also being easy to handle, the Ranger is a top choice.
The Ford Super Duty
On the other end of the spectrum, maybe you need a truck that's all-powerful and ready to handle monumental tasks without batting an eye. That's where the Super Duty lineup comes in to save the day, armed with top-of-the-line powertrains to tow and haul far more than regular trucks can, but that's not all. They're durable and built to work, making them the best job site choices. If you want to take advantage of some of the most power these trucks have ever been equipped with, you'll want to turn your attention to models from 2020, as these models showcase the highest tow ratings in the lineup's history. They also feature revamped front ends and more design elements to add to their intimidating aura.
The Ford Maverick
Finally, the Maverick is the ideal option when you're looking for a versatile pickup that's easy to maneuver through bustling streets. This compact truck features a standard hybrid powertrain for unmatched efficiency, and with its small size, it's the ideal commuter companion, especially for those regularly traversing city streets. The Maverick hasn't been out for long, but choosing models from its debut year, 2022, will allow you to take advantage of these inspiring features for less money than buying new. From a sturdy build to plenty of modern features, including a comfortable interior with ambient lighting, power-adjustable front seats, and more, the Maverick is the perfect pickup for those who didn't even know they needed a pickup in their life.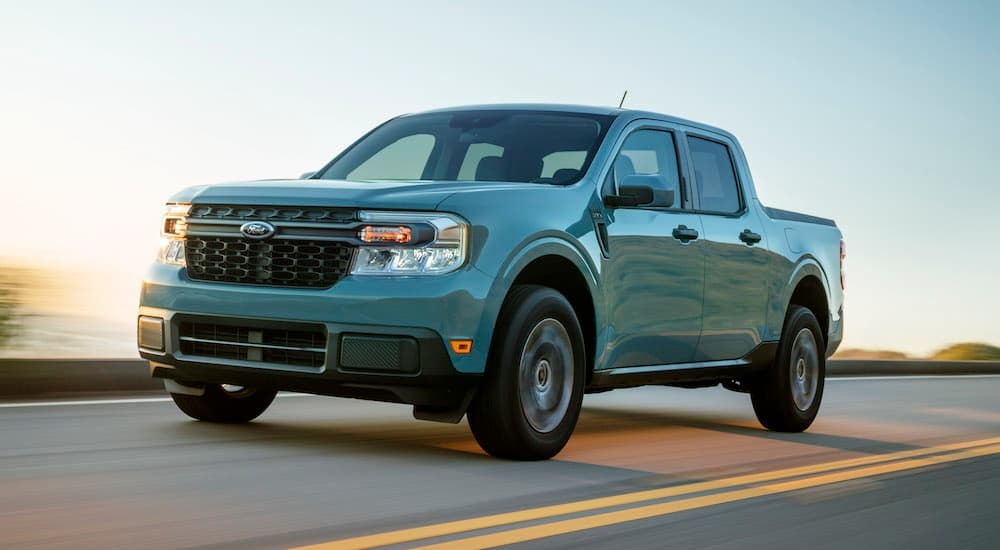 FAQs About Buying a Used Ford Truck
Finding the right Ford truck is essential. That's why it's important to do your research and figure out which truck will work best for your unique driving needs. You may have some questions regarding Ford's celebrated lineup of trucks, and we're here to help by answering some of the most frequently asked queries on the internet.
Which Year of Ford Truck Is Most Reliable?
Ford designs trucks built to last, so whichever model year you're interested in will ultimately satisfy you. It's important to note that if you want to take advantage of some of the latest advancements, especially in engineering and capabilities, newer used trucks will provide this to you. Another key factor is how you maintain your truck, so be sure to partner with a reputable service center to ensure your Ford truck properly takes advantage of unparalleled reliability.
Which Ford Trucks Offer a Diesel Engine?
You can find the legendary Power Stroke diesel engine in used F-150 models, but you won't find it in newer models. This engine was discontinued after the 2021 model year, so choosing models before this will allow you to enjoy this exceptional engine. The Super Duty lineup still offers the Power Stroke diesel, so if you are looking for maximum power in your pickup in the form of a dutiful diesel, these models will offer it.
How Long Should a Ford Truck Last?
As with anything you own, proper maintenance will ensure you get the most out of your Ford truck, mile after mile. When properly taken care of, Ford trucks can last hundreds of thousands of miles, allowing you to enjoy your truck for years without issue. Remember, partnering with a service center that is well-versed in working on Ford trucks will ensure that you're taking care of your truck as best as possible.
When it comes to a used truck, Ford showcases a lineup of models that won't disappoint, no matter what you plan to use your truck for and where you plan to venture. From commuters to skilled workmates, family travelers to fearless off-roaders, Ford has something for every driver. Buying used is always advised if you want to enjoy reasonable prices and top features. Don't think you have to compromise when it comes to your used truck, especially when you have the Blue Oval watching your journey during every mile.
Back to Parent Page