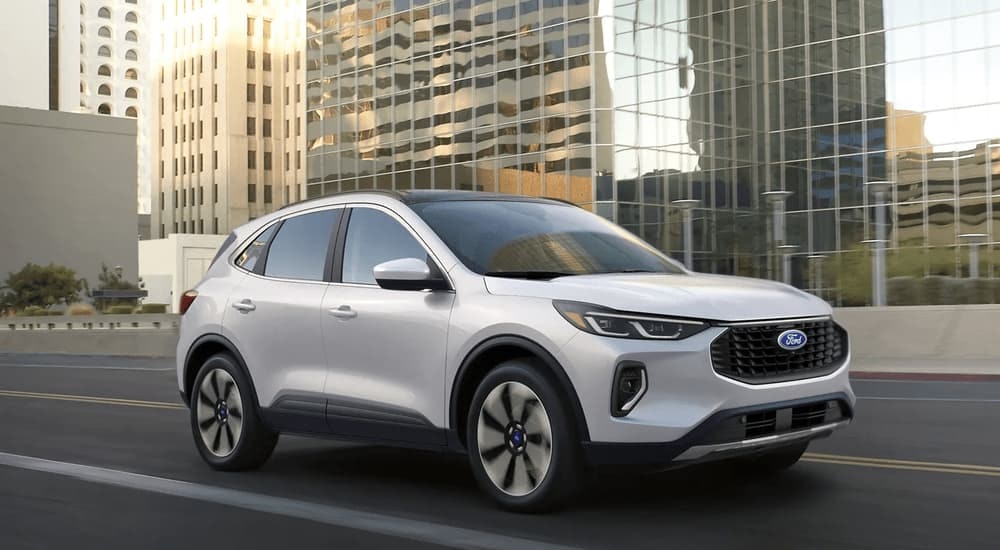 Top Ford SUVs: What to Expect for the 2023 Ford Escape, Explorer, and Expedition
Ford vehicles are prevalent on any roadway you happen to be traveling on, and when it comes to versatility, safety, and performance, the brand's lineup of SUVs is absolutely remarkable. Although there are many SUVs that reside in the Ford inventory, three tend to stand out from the rest: the compact Escape, the midsize Explorer, and the full-size Expedition. If you're looking for a Ford dealer near Brattleboro, VT, Faith's Ford, a part of Faith's Automotive, is poised to help you find the Ford SUV that will re-energize your travels like never before. So, check out the 2023 Escape, Explorer, and Expedition, and see how these top-performing SUVs will change the way you take on the daily drive.
2023 Ford Escape: Restyled & Revitalized
You'll notice that the compact Ford Escape is more ravishing than ever before, with its latest year in production showcasing a sleek new physique. From a new grille and bumper to new wheel designs and new trim options, the 2023 Escape offers even more to its loyal following. Larger touchscreen options can be enjoyed, including a 12.3-inch digital instrument cluster on top-level trims, while edgy style, by way of the ST-Line models, allows drivers to harness impeccable modern design for any type of journey they're taking on next. From a flat-bottom steering wheel and exclusive badging to athletic elements radiating throughout, the ST-Line makes the Escape a compelling choice amongst other compact SUVs.
Drivers love the fact that they're able to choose from a variety of powertrains in the Escape, as many of its competitors limit you to just one meager option. With four powertrains available, including two hybrids in the mix, drivers are able to focus on getting the performance they need out of their everyday travel companion. In addition, its comfortable and accommodating design allows you to handle more, with up to 65.4 cu.ft. of cargo space, perfect for those loading up their vehicle with gear. The 2023 Escape is also equipped with plenty of helpful driver assistance tech, most of which comes standard, including a Blind Spot Information System (BLIS), Rear View Camera, automatic high beams, and more helpful elements to keep you safe on the road. This compact SUV is a surefire winner with commuters, road trippers, and a variety of drivers everywhere, and the 2023 model proves that the legendary Ford brand just keeps getting better with time.
2023 Ford Explorer: Confidently Capable
This three-row midsize SUV is the perfect blend of rugged strength and convenience; all wrapped up into one captivating vehicle. You'll find new paint colors added to the Explorer's color palette, as well as the same great performance we've grown to expect from this iconic Ford favorite. With the durability needed to traverse challenging terrain with precision, as well as the power needed to be able to tow up to 5,600 lbs, the Explorer is a beast, no matter where it's traveling. Convenience features are found in abundance in the Explorer, from configurable seating to 87.8 cu.ft. of cargo space, perfect for handling large gear, like camping equipment, sports gear, school projects, or anything else joining you for the adventure.
The Explorer prioritizes safety and assistance, which is made obvious by its slew of helpful features, including advanced trailering tech. From Trailer Sway Control to keep you stable and safe, even while towing heavy objects, to Side-Wind Stabilization to keep the Explorer safely controlled in windy environments, this Ford staple thinks of everything to make your driving escapades better than you imagined. Like the smaller Escape, the Explorer can be armed with a number of high-performing engines, including a 3.0L EcoBoost turbocharged V6, which jets off the line with 400 horsepower propelling it forward. There's no doubt about it—you'll be in for a gutsy ride in this rugged machine. Whether the trip consists of camping in the woods or carting the kids and their four-wheelers out for a weekend adventure, the Explorer can handle it all with Ford reliability coursing through it.
2023 Ford Expedition: Always a Family Favorite
If you need more space than the midsize Explorer can provide, we'd like you to say hello to the full-size Expedition. Not only is it ruggedly handsome and overly accommodating, but it's spacious enough to handle up to eight occupants, as well as all the gear they're bringing with them for the ride. You'll find that 2023 models showcase new color options, as well as more performance features in the off-road-oriented Timberline model. With Trail One-Pedal Drive now in the Timberline's arsenal of features, the Expedition is able to brake and accelerate without drivers having to switch from the brake to the gas pedal, much like many EVs that are on the road today. This makes for a much more efficient ride and allows the Expedition to traverse dangerous terrain with more control.
The ability to tow up to 9,300 lbs when properly equipped makes this Ford SUV a favorite, especially among adventurous families. Speaking of families, with up to 104.6 cu.ft. of cargo space, you'll be able to handle virtually anything inside this large and in-charge family hauler. Caring for a family and driving them around all day can be exhausting, but with Ford's Blue Cruise technology available in certain Expedition models, you'll be able to enjoy hands-free semi-autonomous driving. With the Expedition steering, braking, and navigating through traffic for you, all you have to do is sit back and enjoy the ride. The Expedition has everything going for it, especially when it comes to family comfort on the road, with a spacious cabin, loads of cargo space, plenty of safety features, and a ruggedness that can't be beat.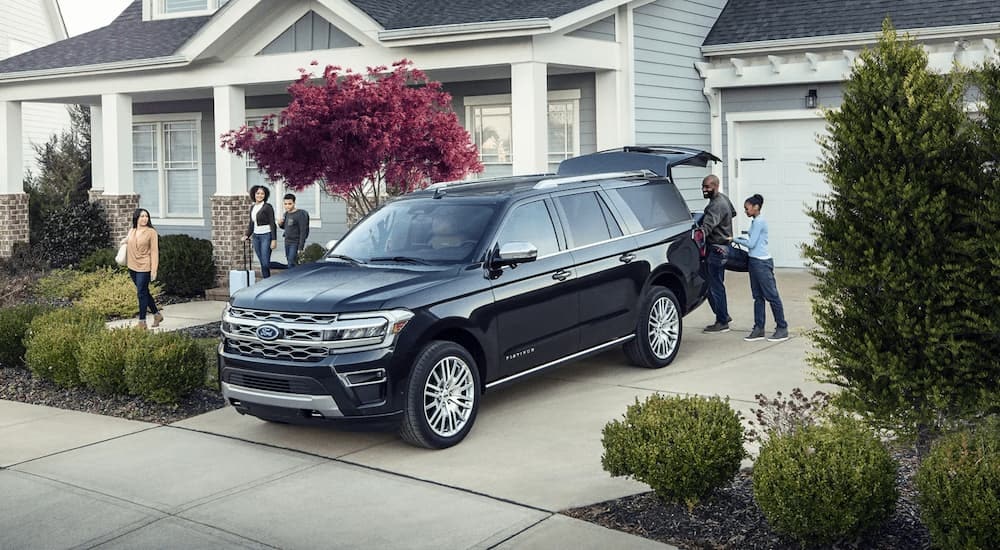 Your Drive Deserves a Ford
Ford has been designing trusted vehicles for 120 years, and if there's one thing drivers know about Ford, it's that this automaker sure knows the ropes when it comes to building vehicles that work in a variety of travel situations. The level of reliability that you'll find in Ford vehicles is unmatched, and with so many options to choose from in the Ford lineup, especially when it comes to SUVs, there's sure to be an option for any type of driver. Ford vehicles are armed with some of the most powerful engines in the industry, as well as features to make the drive more enjoyable, like large cabin spaces, a plethora of safety features, and loads of top-level tech, all for prices that meet virtually any budget.
When it comes to offering you the experience you demand behind the wheel, the lineup of Ford SUVs is impressive. From the compact and refreshed Escape to the ruggedly exciting Explorer and family-friendly Expedition, there's something in the Ford inventory to suit your needs perfectly. Stop by Faith's Ford, a part of Faith's Automotive, and discover all the options that reside on their lot, and if you have your eye on one of the top three Ford models mentioned above, they can help you find the option that works perfectly for your travels. You'll love the versatility, style, performance, and tech that's found within each of these phenomenal vehicles, and with so many trims to choose from, finding the SUV that's in your budget is easy with us. When you have a Ford at the helm of your journey, you can expect excellence, so let's get started on elevating your ride in every possible way.
Back to Parent Page