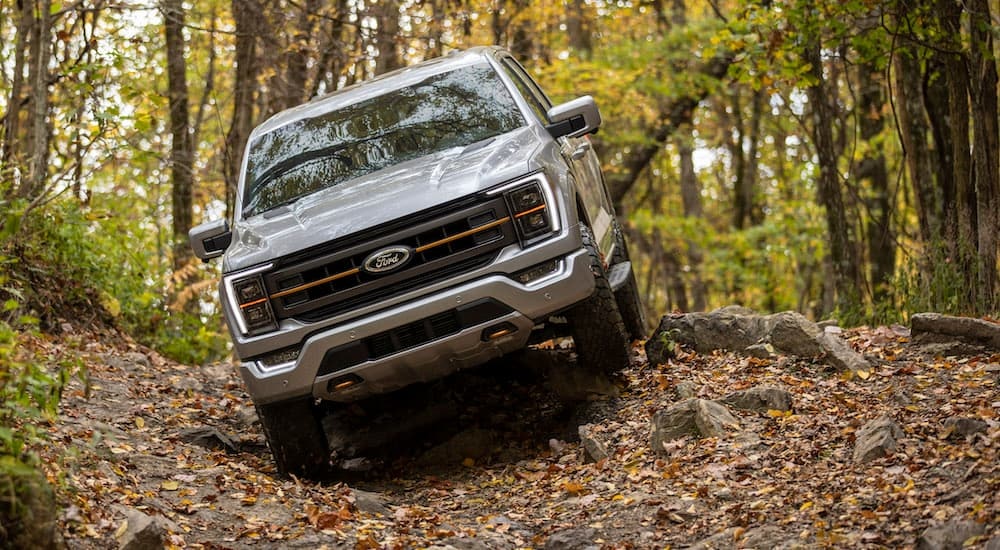 Your Complete Guide to Ford's Extensive F-150 Lineup
When you head out to find a Ford F-150 for sale, you should keep in mind that it comes in a vast array of trims. A trim is a version of a car, SUV, or truck, often one with more features than the base design. Usually, you'll find one type of trim that looks ideal for your driving lifestyle, and you'll want to make certain you purchase that precise trim to get the most out of your model. For the Ford F-150, you're already looking at one of the best trucks on the market today, but depending on what you plan to use it for, one of its trims could serve you better. Let's take a look at the trims so that you can make a better-informed decision, and when you're ready to see the model up close and personal, the friendly and knowledgeable team at Faith's Ford will be there for you during each step of the truck-buying process.
An Overview of the F-150
The Ford F-150 ranks not just as one of the best pickup trucks on the market but also as one of the most iconic. It can accomplish any modern mission, but its exterior still harkens back to an older look, alluding to the long history of Ford pickup trucks. It's an economical buy despite the power and command it offers drivers. At its base model, the F-150 can already tow up to 8,200 lbs, which is a weight well over the truck itself. That towing limit rises when we look at higher trims. As horsepower and torque increase, so do towing and payload limits. At its highest, the F-150 can tow 14,000 lbs when properly equipped.
Naturally, the Ford F-150 can be a great purchase for a laborer, but a family can get a lot out of one of these pickup trucks, too. The F-150's ability to tow and handle a hefty payload means you can expand the type of outdoor activities you do. From towing a camper to towing ATV bikes, the wilderness can turn into your playground. All of a sudden, family vacations will become a lot more exciting for everyone involved in them. There's no doubt about it: an investment in an F-150 will upgrade your life.
The XL and XLT
The XL is the first trim and comes with the base 3.3L V6 engine, packing an incredible punch on the road; it delivers 290 hp and 260 lb-ft of torque. The higher the horsepower and torque, the better acceleration you'll have and the smoother your rides will be. The engine comes with a port-fuel and direct-injection system, providing more fuel efficiency. Inside, you'll have an 8-inch touchscreen that will keep you and your passengers entertained during long trips. Plus, there's cruise control capability for when you're driving down the highway at a steady speed and want to reduce your stress a bit. If you know you will be traveling with passengers, a dual climate zone is available so that you and your passenger can enjoy your own temperature preferences.
The XLT stands as the next trim. This one comes with many of the same elements as the XL, such as the 3.3L V6 engine, but adds a few more exciting features. The XLT's exterior has a more aggressive vibe, looking intimidating yet still classy while on the road. This is partly thanks to a two-bar style black grille with chrome surround and black accents. The XLT also comes with a few extra driver-assist tools: the Blind Spot Information System with Cross Traffic Alert and Trailer Tow Coverage. This is a great addition if you plan to do a lot of towing as it alerts you to any vehicles not just in your truck's blind spot, but in your trailer's blind spot, too. This system will help anyone, but it's doubly helpful if you haven't towed much before and want to feel like you have a second pair of eyes.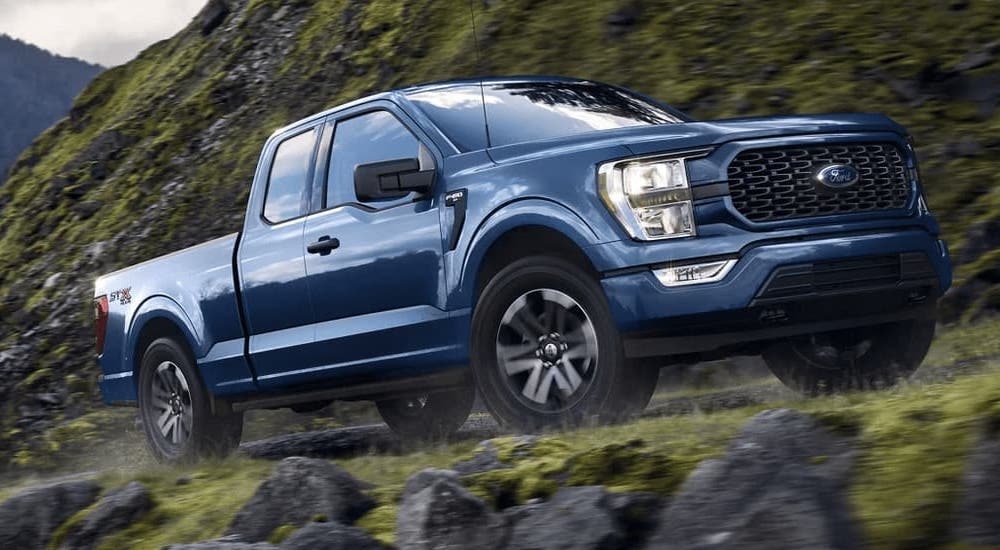 The LARIAT
The LARIAT trim has much in common with the XL and XLT, yet it's just a notch above them regarding power. This truck comes with a 2.7L EcoBoost engine that pumps the horsepower up to 325, and the torque skyrockets to 400 lb-ft. This means that acceleration will be faster than ever; that's a valuable ability when entering a highway, especially if you're towing. There are a few upgrades inside, as well. You'll have a 12-inch Digital Productivity Screen that can relay updates on the truck and what you're towing. The screen can adapt depending on your driving mode so that you're getting the information most valuable to you at the moment.
The LARIAT comes with SYNC 4, too, an interactive program that responds to voice commands and provides seamless mobile device connectivity. SYNC 4 holds a digital version of your driver's manual, making it far easier to find what you're looking for than having to page through the manual yourself. The LARIAT comes as a great middle-ground for the F-150, a great purchase for drivers who want more power and technological fun but do not want to fully upgrade to the higher trims.
The Tremor, King Ranch, and Platinum
These three fall into the same general price range, landing above the LARIAT but beneath the top two trims. Of these three, the Platinum is the showiest, with features that add some extra beauty to the F-150. The fun starts with its 20-inch polished aluminum wheels that not only make for effective driving but also will be eye-catching when you're on the road. For you and your passengers, there will be multi-contour leather seating material that'll make your trip quite comfortable. You'll all be sinking into your seats, not caring how long the trip might take. Yet, despite these more luxury-oriented additions, the Platinum still offers a best-in-class payload limit of 3,280 lbs thanks to its 5.0L V8 engine. You'll be able to pack plenty into your Platinum's bed without worry.
The Tremor will be a must-buy for anyone who plans to take their pickup off the pavement. This trim comes specifically made for terrain that's more difficult than average. If you foresee rocky areas, sand, or other off-roading locations in your future, then the Tremor should be your next purchase. The Tremor's shocks were made for off-roading so that when the road gets rough, your ride doesn't. The more challenging the terrain, the more damping your Tremor will provide you. Even this trim's wheels are ready for a challenge: they come with a one-inch wider stance for better off-road performance. It can carry the same payload as the Platinum, too, so you can bring along whatever gear you want when heading into the wilderness.
As for the King Ranch, this trim will be a true pleasure for anyone who wants to upgrade their interior with great infotainment and luxury. This trim comes with a special sound system courtesy of Bang & Olufsen. You'll have 8 speakers with 640 watts of amplified power. Even better, you'll enjoy this stellar sound system in fully leather heated seats. The driver's seat comes with memory to boot. Despite the luxury, you won't lose power as this also arrives with the 5.0L V8 engine.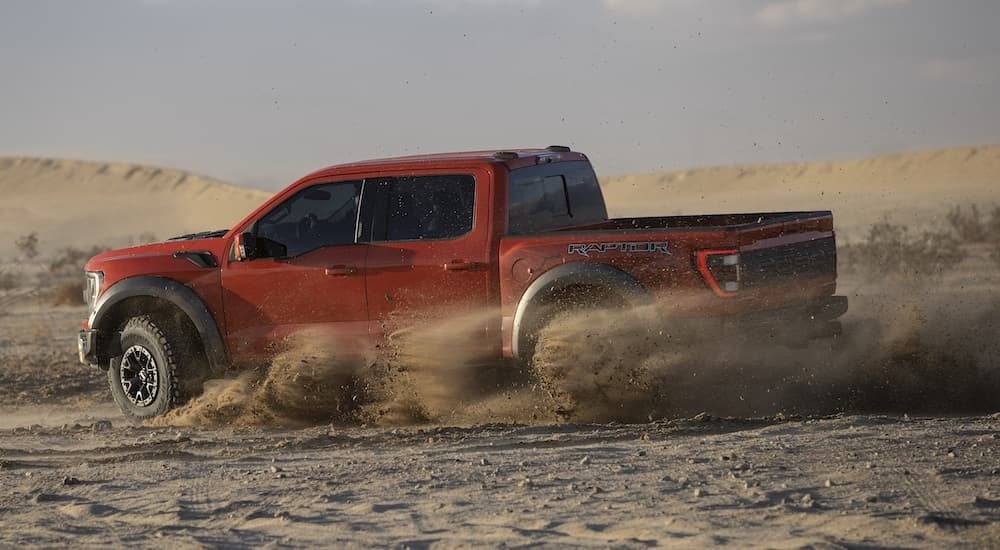 The Raptor and the Limited
These are the top two trims, ready to serve those truly passionate about their Ford F-150 models. The Raptor stands as a truly aggressive truck, ready to wow everyone with its performance numbers. Thanks to its mind-blowing engine, the 3.5L EcoBoost High-Output V6, the Raptor can brag about providing 450 hp and 510 lb-ft of torque (no surprise that it can go from zero to sixty in under six seconds). Better yet, the engine has cooling fans, so performance won't lag if you traverse some rocky terrain. Combine that with the Raptor's sport-tuned shock absorbers, and your ride will be gentle no matter what terrain you're dealing with. And you'll be able to do all this in comfort and style due to your leather-wrapped steering wheel with thumb pads.
The Limited, though? That's the cream of the crop. You have an available hybrid engine, a 3.5L PowerBoost Full Hybrid V6, that will grant you the best fuel efficiency out of all of the F-150's trims. This trim can be its own generator, too, thanks to a 7.2 kW outlet that comes with the 3.5L PowerBoost engine. You'll be able to power any equipment you're bringing to your worksite and power household items in the event of a power outage. While the Limited can feel like you have enough power to run a factory, you shouldn't think for even a second that luxury has been sacrificed. You'll still enjoy those multi-contour leather seats on the other trims, giving you the perfect balance of monstrous power and unparalleled luxury.
Check Out the Ford F-150 With Us Today
The F-150's lineup can be overwhelming to say the least; that's why it's crucial to partner with a knowledgeable dealership that can walk you through each model and help you narrow down some potential options. That's what the team at Faith's Ford is here for. They're passionate about this iconic brand and would be more than happy to help you discover which F-150 trim speaks to you and your driving needs.
But their services don't end with picking out the ideal model; their dedicated finance team will help you through every step of the truck-buying process and create a payment plan that works with your budget. They'll also be there for you throughout the ownership of your truck, with an expert auto detailing center to keep your truck looking like-new for many years to come. That's the difference DriveHubler Certified Pre-Owned brings to our customers, and we can't wait to get you behind the wheel of an F-150 that will truly elevate your daily travels.
Back to Parent Page